by Brandi Savitt – revised May 19, 2014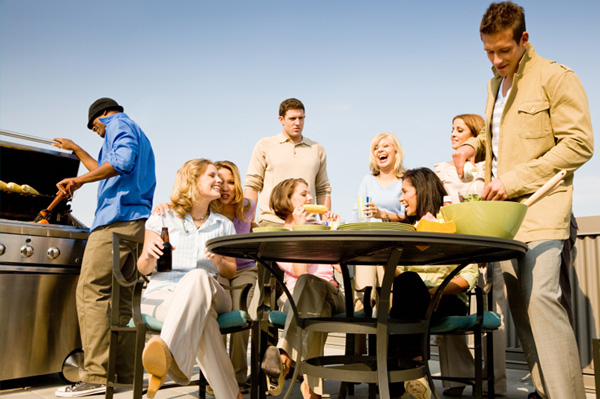 Give Your BBQ Menu a European Twist
Memorial Day may be an American holiday, but that doesn't mean that your BBQ can't test culinary borders! Whether you're hosting your own Memorial Day backyard bash, or bringing a dish to a friend's soiree, WOW the guests with one (or all) of these Fab & Fru warm weather recipes!
Start Off with a Pitcher of Sangria
Nothing says summer like a pitcher of cold and delicious sangria.  …And our Roasted Peach & Basil Sangria Recipe is to die for!  Remember, Sangria is one of the most frugal – and impressive – drinks you can serve up for a group.  Plus, the unexpected addition of basil makes it all the more FAB!
A Shot Glass of Gazpacho, Please
Serve  Refreshing Gazpacho as an appetizer.  For a fun twist, ditch the spoons and pass out shot glasses or champagne flutes full of this delightful chilled soup!
Baa-Baa Lamb Burgers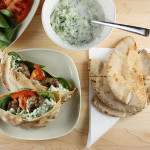 Quality ground lamb may be little pricier than ground beef, but this  Greek Style Lamb Burger recipe served in a pita is TOTALLY worth the splurge!
The Hearty Greek Salad

Toss up a satisfying salad that will thrill any vegetarian while complimenting any meat or fish coming off the grill.  This Simple Greek Salad recipe is not only easy to make – it's absolutely delish!

Not Just Any Pasta Salad
Impress your friends with our Summer Orzo Sensation, and they will never look at pasta salad the same way again.  –A side note to this side dish – add grilled shrimp or chicken and you have your self another main course!
Citrus Dessert Delight
Okay… so Key Lime Squares may scream the Florida rather than the south of France, but the tangy citrus pop of this BBQ favorite totally compliments your Mediterranean spread while tying this feast back to the homeland!
Happy Memorial Day & Bon Appetit!
|
Print