by Stephanie Berenbaum – June 11th, 2012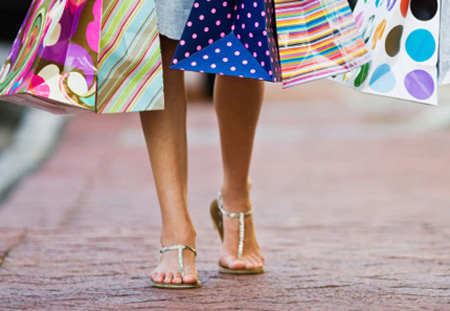 High Fashion on A Low Budget
I don't mean to brag, but I've had a quite a few Fab & Fru fashion victories over the past week.  With all of the special events I have to attend this summer, I was desperate to find the perfect dress (or two) to round out my summer wardrobe.  And as much as it pains me to admit it, I found my fashion inspiration at one of my most dreaded destinations – the local mall.
My Shopping Mall Strategy
For me, a trip to the Beverly Center mall requires some major mental prep.  I usually start my shopping efforts fighting a mild wave of vertigo as I acclimate to the windowless vortex of chain stores, food courts and eager perfume sprayers.  But this trip,  I decided to power up my iPod and let Mick Jagger accompany me up the escalator to my summer fashion destiny.  Way better shopping when Mick is with you.  The result:  we found some KEY Fab & Fru staples, and the best part is we did the legwork for YOU!
Peep Show 
It's sort of backwards that I found shoes first, but you can't question life when it throws a great pair your way.  I stumbled into Ann Taylor – a store I have not shopped at since my days of needing stockbroker suits.  And what did I find?  A pair of shoes they call the Perfect Peep Toe Slingbacks - and seriously, they live up to their name…
These surprisingly comfy, designer-looking heels come in a fun-glossy-nude patent leather that goes with everything.  I wore mine to a Bat Mitzvah this past weekend and didn't feel the need to take them off  – even after hours of dancing.  These ladies are well worth the $158 price tag –  I saw a similar designer shoe for 3 times the price!
Banana Republic Bonanza
The next stop was Banana Republic, and I hit the jackpot with two dresses that I can dress up or down…
Their $98 knit lace sheath is a sexier take on that summer favorite – white lace.  Its stretch-y fabric is ultra flattering and the lace makes it seem way more luxe than its price tag suggests!
|
Print
Pages: 1 2