Mixing Friendship, Finances & Summer Fun
Planning a trip with friends this summer?  Then reading this article is even more important than rushing off to get your spray tan. Before you and your pals jet off, get on the same travel page and spell out your expectations – financial and otherwise.  If you don't, you run the risk of saying "Bon Voyage" to your friendship!
We've heard one too many stories of friendships that are strained by an unexpected car rental tax in Italy, a tiff over tipping customs in Spain, or an all out argument over whether or not to splurge on a luxury hotel in France.  You probably think this would never happen to you and your amigas, but we think it pays to be prepared – and so do our friends at Citi's Women & Co!  They've prepared this pre-travel cheat sheet to help keep your friendships AND your finances in check this summer – so let's Start Talking!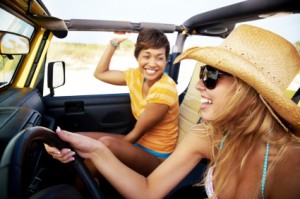 Start Talking!  To Your Friend about Sharing Vacation Expenses
What's your idea of a vacation – Road trip?  Yoga retreat?  A much needed vacation with a friend sounds like a great idea but it can get tricky once you get into the planning.  When you have dinner out with friends locally, it's easy for everyone to put down their credit card and split the bill but that's not necessarily the case when it comes to vacation expenses.  Whether it's a tropical beach locale, a ski jaunt, or a road trip there can be a lot of issues to work through before you book anything let alone start packing your suitcase.  It's important to talk to your friend about things such as what type of vacation you like and how you'll split expenses during the planning process – there's nothing worse than kicking off a vacation with disagreements over expenses.
Tips to get you started:
Get on the same page.  What's your vacation style?  Do you go first class all the way?  Or do you look for deals and savings wherever you can?  Talk about this when you begin planning.
Plan your expense sharing strategy ahead of time.  Will you both chip in equal amounts for a pre-paid credit card and use that for all expenses?  Will one person pay for everything during the vacation and you'll settle up after the fact?  Will you alternate paying for hotels?  How will you handle paying for gas?
Be flexible once on vacation.  Things will arise, such as an unplanned sunset cruise or a hidden gem of a winery so allow for some changes from your initially itinerary and budgeting plan.
Re-group at home.  Once you're home and back to reality, check in with your friend about the experience. Would you do it again?  What would you change?
Remember:
Sharing vacation expenses with friends, other couples, or family is a great way to cut costs.
Don't let haggling over expenses get in the way of a friendship!
There are some great apps out there that can help you with tracking expenses.
|
Print