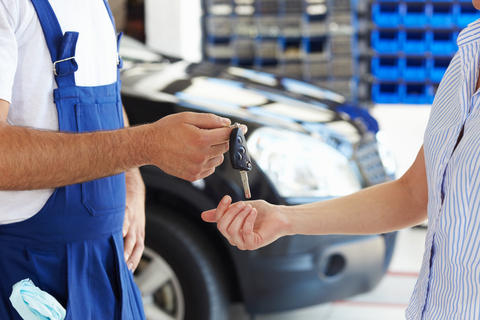 Last Friday, Susan was psyched to leave work early to road trip to West Virginia for a weekend theater festival.  But when she got home to her Brooklyn apartment and went to hop in the car, she noticed a big fat nail sticking out of one of her tires.  Panicking that she'd miss Friday night's performance, Susan had no idea how to change a tire (nor did she have a spare in the trunk).  She found the closest repair shop to her apartment and slowly drove her ailing car down the main neighborhood drag.
When she pulled up to the tiny store front called "TIRES ONLY," the only repair man (and owner) came out to greet her.  She told him that she needed at new tire as fast as possible.  He took one look at her back wheel, and told her "you don't need a new tire.  I'll just repair it."  $10 and ten minutes later, Susan's tire was as good as new!
Not only was Susan grateful, she was completely impressed with the man's honesty and excellent work.  She wanted to give him a big tip, but the problem was, she had no idea how to calculate a worthy tip based on a $10 charge.  Furthermore, he was the owner, and you never tip the owner, right?  Rushed to get on the road, Susan handed the man $15, thanked him profusely for saving the day, and then revved up her engine to hit the highway.
Should Susan have tipped the tire man more, or should she not have not tipped him at all?  What would you have done?  Tell us what you think!
|
Print