by Stephanie Berenbaum – updated June 27, 2014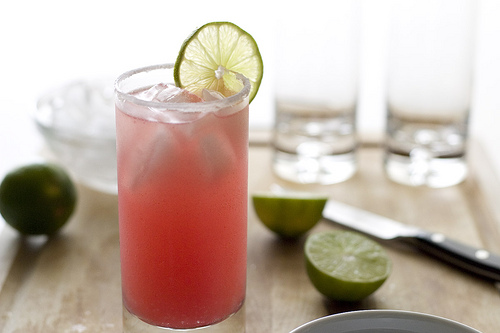 A Bevvy Of Refreshing Choices
The other day, I was at my favorite Mexican restaurant in Los Angeles, and I ordered one of their delicious drinks – a strawberry Agua Fresca.  If you're not familiar with this treat, you should be!  Agua Fresca is a fresh Mexican fruit drink that is the perfect antidote to summer heat – and a welcome alternative to lemonade.
As much as I enjoyed my strawberry delight, I couldn't help but be slightly annoyed by it's $4.00 price tag for a plastic cup filled with mostly ice and too little of my new favorite bevvy!  I started wondering – how hard could it be to make on of these at home – and how much less would it cost?
Simply Delicious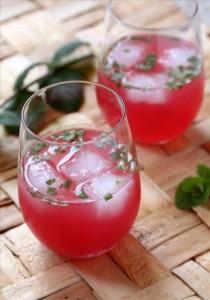 It turns out Aqua Fresca is so easy – and economical – to make, it's the perfect addition to your next summer soiree.  The basic recipe is just to puree the fruit of your choice, strain out the pulp, and mix the juice with water, sugar and lime!
So, Why Is Fresca So Fab & Fru?
We love "one drink fits all" beverages for parties, and Agua Fresca is one of those drinks.  Because you can either serve it on it's own – OR spike it with Prosecco, rum or vodka – it's a crowd pleaser for everyone from kids to grownups!
Another reason it is so Fab & Fru?  Agua Fresca is a great way to use up leftover fruit.  Too often I will buy a huge watermelon and then end up wasting much of it.  Agua Fresca is the perfect way to use up your leftover melon, strawberries, and cucumbers (yes, cucumbers – and it's delish)!
The Recipe!
Makes approx 6 glasses
2 pints of strawberries or around 3 cups
1 1/2 cups water
2 to 4 tablespoons sugar
2 to 3 limes, juiced
6 Fresh mints sprigs (optional)
The Preparation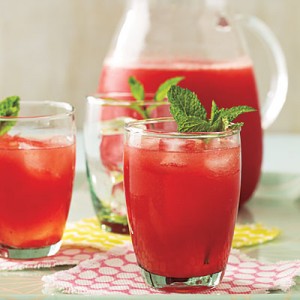 –You don't have to just use strawberries to make a refreshing Agua Fresa.  Watermelon, cantaloupe, pineapple, mango, cucumber – or your favorite combination of fruits – all make delicious choices.
The key to making Agua Fresca is to strain the pulpy fruit to make a clearer liquid.
First puree the fruit together in a blender.  Then pour the goopy liquid through a fine sieve to eliminate the pulp.  In a pitcher, mix the strained fruit puree with water and season with sugar and lime juice, to taste.  -Can be made 6 hours ahead,  just  cover and chill.  –Add ice to pitcher just before serving.

Fill 6 glasses with more ice and pour the Agua Fresca into each glass -  garnish with a mint sprig.
Enjoy!

|
Print