by Stephanie Berenbaum – August 13th, 2012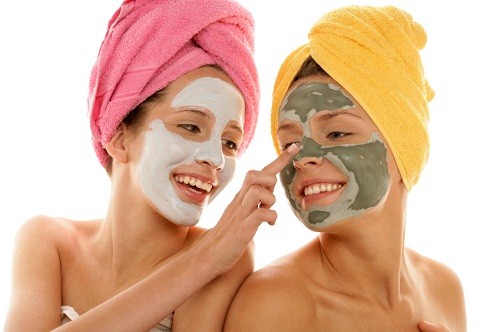 Penny Pinching Pore Savers
As the summer heat blazes on, my skin has been looking, well… not so hot.  Luckily, I remembered some of our favorite Fab & Fru facial scrubs – made with ingredients you probably have in your kitchen right now!  I was so relieved to re-discover these skin secrets, I just had to remind you all about them asap…
Christina's Skin Secret
Our friend Christina Rogers has fabulous skin.  One night I commented on her fresh-faced glow and she shared her Fab & Fru facial secret with me.  It turned out she made her own scrub – with basic grocery items!
So, if you have staples like olive oil, sugar and lemon juice at home, you too are ready to start your own Fab & Fru beauty school.  These yummy foods also have major cleansing properties.  The olive oil moisturizes while the sugar and lemon exfoliate and tone – these basics can really make your skin beautiful!
How To Get That Glow
Christina says for a quick and nourishing weekly or monthly cleanse, all you have to do is squeeze, pour, and mix until the consistency of the scrub becomes thick.  Though she usually just eyeballs the measurements, Christina suggests mixing:
3 teaspoons sugar, 
1 teaspoon olive oil
, and 1 teaspoon lemon juice
Just mix and scrub away.  In no time – and for almost no money – you can achieve a natural glow without leaving your kitchen!
Caffeinate Your Skin
This next scrub is perfect if you are a major coffee acheiver, like myself.  Every morning I toss out a basket full of used coffee grounds, but who knew I could reuse them and make my skin look as refreshed as I feel after I big cup of joe?
Just take your morning coffee grinds (after they have cooled off, of course!) and mix in a tablespoon of lemon juice.  That's it!  Gently work this miraculous mess over your face in gentle circles and rinse off.   Brandi and I absolutely swear by this one – try it and you will be hooked!  We're sure we're not the only ones with foodie facial scrub ideas, so we want to know…
What's Your Favorite Fab & Fru At-Home Facial Scrub Recipe?
|
Print