by Brandi Savitt – August 23rd, 2012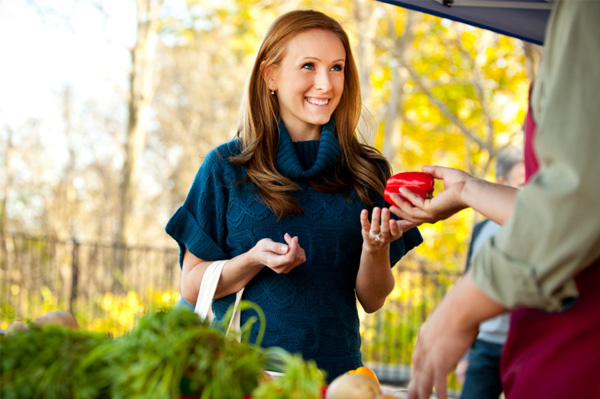 Get Healthy & Save On Summer Produce
If you crave fresh fruits and veggies, but find it hard to stomach the high price of organic produce – you're in luck! August is one of the peak months for everything from lettuces to melons to corn – which means that plentiful crops yield the best tasting produce and prices are lower now than any other time of the year.
*But cost can't be the only factor when doing your weekly grocery shopping…  See why these four powerhouse fruits and veggies are worth their weight in gold – all year round!
The Tantalizing Tomato
Last week I was at a local farmers' market when I popped a yellow cherry tomato into my mouth and stopped in my tracks.  That little piece of heaven was like pure sugar!
With hundreds of varieties, all in season RIGHT NOW, tomatoes offer a treasure trove of riches when it comes to their antioxidant benefits.  An excellent source of vitamin C, beta-carotene, and a ton of other vitamins and minerals, tomatoes help prevent cancer while promoting cardiovascular health and bone health too.
Whether you make a tomato, onion and basil salad, or toss some garlic and cherry tomatoes with your favorite pasta – you will be in culinary heaven the next few weeks with the ripest tomatoes of the season!
Awesome Avocados!
These expensive guacamole makers are ripe for the picking in California right now, and even here on the East Coast, avocado prices are half of what they are the rest of the year.  And while many weight conscious ladies question the high fat and calorie count of this green goddesses – have no fear – the avocado may be the most perfect food in nature.
Not only do avocados have HUGE anti-inflammatory benefits, their plant based fat content helps increase the absorption of essential carotenoids found in other veggies.  The nutrients found in avocados also help prevent heart disease and cancer – all while helping to keep your blood sugar regulated too.
Add avocado to your salads for extra health benefits, whip up some fresh guacamole, or make some avocado crostinis.  Your skin, heart and entire body will thank you for years to come!
You're a Peach
If you want to take a bite out of heaven, I suggest you run out right now and stock up on the juiciest peaches of the season.  They're simply divine this time of year!
Not to throw our beloved bananas under the bus, but peaches are also a TOP  source of potassium – not to mention flouride, iron and fiber.  This succulent lovelies are great for your eyes, skin and are thought to benefit those suffering from lung disorders like COPD.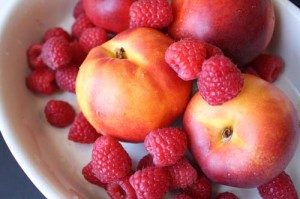 Whether you eat them on their own, throw them into a smoothie, get your bake on, or get festive with sangria – don't miss out on these summer favorites!
Raspberry Beret
Raspberries are at their finest (and their cheapest) this time of year.  These red beauties are not only yummy, they're super good for you!
Full of antioxidants and anti-inflammatory benefits, raspberries are also high in ketones.  Early studies show that ketones help increase enzyme activity, oxygen consumption, and heat production in certain types of fat cells, and therefore may be able to decrease risk of obesity as well as risk of fatty liver.  Nutrients in raspberries also help to regulate blood sugar.
Mix a handful of ripe raspberries with some peaches, sprinkle them over your morning granola, or serve them as dessert with a little dollop of homemade whip cream.  –Summer berries put a smile on everyone's face!
Eat well and be well.  Enjoy!
|
Print