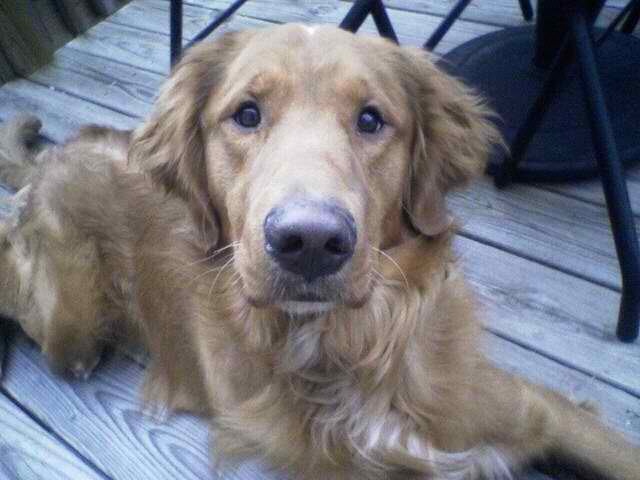 Thanks for all your entries into our Pawalla giveaway contest!  We asked you to send in stories about the most expensive thing your dog or cat ever destroyed – and it was tough to pick just one winner – but we finally did.  So, congratulations to that darling – but deviant – golden retriever, Jagger!  This dog's favorite snack wasn't found in the kitchen – it WAS the kitchen!
Luckily for Jagger, he's going to get to try out 3 months worth of snacks, toys and other goodies – from our friends at Pawalla.  Pawalla sends monthly deliveries of joy to your dog or cat – at a substantial discount!  If you want to try out Pawalla for your pet, you can get a 20% discount off your first month now just by using promo code FABANDFRU. And here's Jagger's story, straight from his owner, Erika:
I remember reading and hearing everywhere that Golden Retrievers were one of the most docile breeds of dog. "One of the best family dogs!" people have told me.  Their calm temperament has been greatly used in assistance programs. Golden Retrievers have even been made famous in TV shows and movies. So, they MUST be easily trained and quite good-natured, right?
It must be my good fortune that I am the mother of the oddest Golden Retriever in the whole world.  Jagger is a 2 year-old, 102 pound, crazy, non-stop chewer with endless amounts of energy that defies ALL the above qualities of Goldens.
As a puppy, I knew immediately that something was wrong.  I got a broken dog! He was not cute and cuddly and docile and sweet.  He was cute but I assumed he must be the wrong breed when he tore apart my newly constructed townhome with great ease, bouncing from one piece of newly bought furniture to the next, tearing up the neighborhood, making neighbors grumble under their breath while pulling their own dogs inside and dragging me down the street behind him as he grew to an amazing size, way beyond what I thought should be normal.  Puppy class was laughable as he wrapped the trainer up in his leash and towered over him as he stood on two paws.  I checked his AKC paperwork almost daily and it never changed, "Golden Retriever".
My frustration peaked one evening when I arrived home and glanced into my beautiful kitchen of chair rails and crown molding, hardwood, beautiful cabinets, stainless steel appliances, and…chew marks…chew marks?!?!?!?!?!?!  Jagger had discovered wood.  The glorious taste of wood-how delicious and savory and satisfying the crisp, white molding around every door and window in my kitchen could taste!  I screamed.  Like in a movie, I dropped my stuff and screamed and then burst into tears. Every window, doorway and most of the baseboard had chew marks up and down, thoroughly dug into the wood, with enormous chunks taken out.  Jagger lay satisfied on the kitchen floor, toys untouched.
I don't think I will ever fully recover from that day, but Jagger was fine, for which I am thankful, and I have moved states away, so the chewed up kitchen was sold to someone else.  As for Jagger, he still remains a Golden Retriever anomaly, but has taken up destroying soccer balls instead of kitchens and for THAT I am very grateful!
Here's to our Fab & Fru furry friends!
|
Print