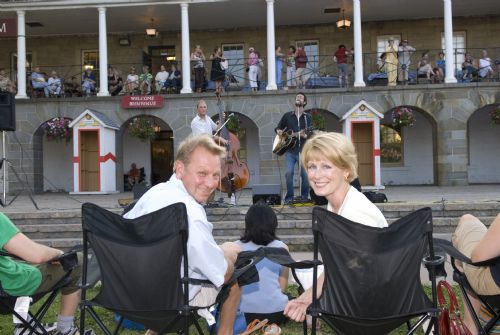 Months ago Sylvia and her husband Paul bought two pricey weekend passes to a huge musical festival that was coming to town at the end of August.  Totally excited to spend two music filled days and nights with her hubby listening to their favorite bands, Sylvia couldn't wait for the weekend to arrive.  That is until Paul's father had to have emergency surgery, and the couple jumped on a plane to St. Louis to be by his side.
Totally bummed to miss the shows, and even more bummed to lose out on the $300 for the weekend, Sylvia sent an email out to her friends to see if anyone was interested in buying their passes.  When her friend Janie wrote back and said she and her boyfriend Chris were interested, but they could only afford to go one night, Sylvia felt that the half price offer was better than nothing.
When Sylvia and Paul returned home, Janie stopped by to see how Paul's dad was doing and to thank them for the passes.  She boosted what an amazing time they had at the festival, and asked Sylvia if she minded that they ended up going both days – not to waste tickets…
Knowing upfront that Janie and Chris couldn't afford full price for the passes, should Sylvia care that they went both days even though they only paid for one?  Should she just be happy that she and Paul made some of their money back, or should she tell Janie that she feels a little taken advantage of and ask her to pony up the full fare?
Tell us what you think!
|
Print