by Alexandra Pauline – August 6th, 2012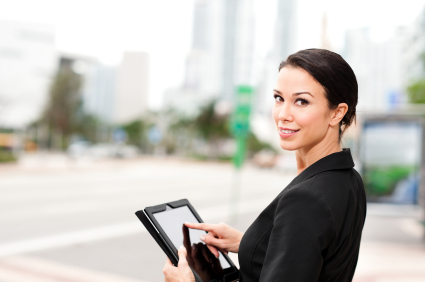 Take Charge of Your Portable Technology
Tablets have put cutting edge convenience at our finger tips – literally.  But are you using your high tech gadgets to their fullest potential?  Whether you're wrangling your kids or running your business on the go, these FREE apps are totally Fab & Fru – and will save you time, money and unnecessary stress!
Dropbox

How many times have you lost one of those supposedly handy little jump drives right before an important presentation?! Dropbox is a FREE way to save your files – without having to tote around anything but your tablet!  It works as a cloud, so you can access your docs from a computer, but it doesn't take up any of your memory – and has the ability to back up video and audio files too!
Cam Scanner
This FREE app uses your tablet's camera as a portable scanner.  If you need a copy of an important document, or want to make sure you have a collection of your receipts, all you have to do is take a picture.  Cam Scanner then adjusts the image for contrast, enhances the quality automatically, and saves it as a PDF!
Chore Master
No need to clutter your fridge with an old fashioned chore wheel.  Chore master is a brilliant FREE app that helps teach your kids organizational skills and discipline in a fun, easy to follow way.  The household leader board makes it easy to keep track of the whole family's progress.  This app helps you manage dates, times, chores – as well as family progress and  rewards for accomplishments.
Kid Mode
This genius FREEBIE is an excellent tool to protect your personal information and data from your two year old's oddly tech savvy fingers.  The second you flip your tablet into Kid Mode it instantly protects all of your documents and media so accidental "editing"or deletion can't occur.  Once you create a profile for your child it comes up with age appropriate games that will transfix your lovies for hours …without endangering your hard work!
Jorte
This FREE calender app is a terrific new way to help coordinate you and your family's busy work and personal schedules between tablets.  Once you download Jorte, you can easily keep track of everything from your 2PM conference call to your oldest's swim meets for the next three months.  No matter how many portable pads your family has, everyone will know exactly where to be when – without mix ups!
Slice
This app – a long running Fab & Fru fave – is a MUST HAVE for the super savvy shopper!  This app creates a profile with all your favorite shopping sites, from Amazon to eBay, and coordinates your shipping.  This way no matter where you're ordering from you can track all your packages from the same place.
Let us know your favorite FREE apps!
|
Print