by Alexandra Pauline – August 27, 2012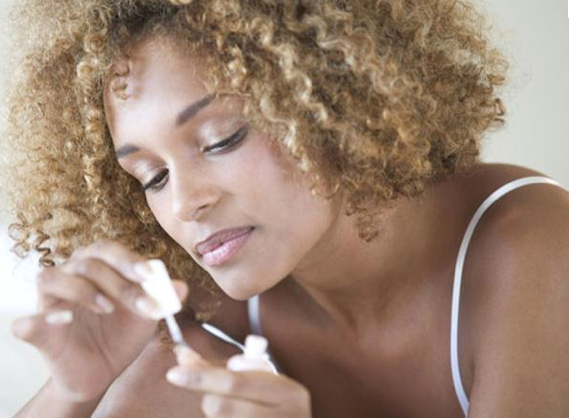 Hot DIY Nail Polish Trends
Autumn is on its way, but that's no reason to dial it back when it comes to color and style.  Fun and funky nail art is all the rage, and you don't need to spend extra for a specialty mani or pedi to get it…  Take your nails to the next level with these simple fashion forward techniques that you'll be able to master right at your kitchen table!
Color Blocking
Bright or light, color blocking is a super Fab & Fru way to spice up your look for the new season.  Invest in a thin paintbrush and a roll of removable Scotch tape, and you'll turn into Picasso in no time!
In broad, even strokes, apply a thin layer of your favorite clear base coat.  Allow three to five minutes of drying time before applying your first coat of color.
Apply two coats of your lightest shade as the base color and allow five to ten minutes to dry.
Put a several drops of the nail polish colors you'd like to use on piece of plastic food wrap or aluminum foil so they don't dry out.
Once your nails are completely dry, apply the tape to create a pattern you like and begin to color in the lines.
Once you've painted each nail, wait a at least 5-10 minutes before applying a clear top coat to avoid the colors smearing together.
Transform your nails into a hue-riffic rainbow with the chic yet easy to do yourself ombre look.  All you need is a makeup sponge and a few shades of your favorite color.
To set up, grab a piece of tape and a toothpick.  Apply a bit of each color to the tape, and mix the colors in the middle.
Apply a clear base coat onto each nail.
Dab your makeup sponge in a tiny bit of water and dip your sponge in the nail color mixture.
Take the sponge and apply the color directly onto your nail from side to side.  Repeat this process for each nail.
Clean up any edges with a Q-tip, and allow 5-10 minutes for your creation to dry before applying an extra shiny clear topcoat – voila!
*Check out this video tutorial to get your ombre looking perfect today!
|
Print
Pages: 1 2