The Studded V
Looking to add a little drama to your fingertips?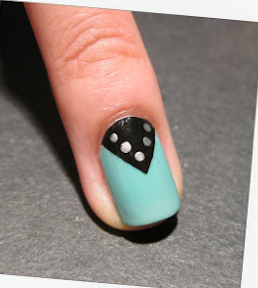 Start by cutting two small removable clear tape strips from the roll for each nail you'll be decorating.  Cut each piece of tape into thinner strips lengthwise.
Apply your base coat and let dry.
 Now apply your base color evenly to each nail.  Be sure to choose a color that won't distract from your sparkly studded accent.  Avoid extremely dark shades if you want the black of the design to really pop.
 Allow the base color to dry 10 minutes dry and then apply a quick dry topcoat.
Place the tape strips one by one on the nail, forming a V-shape, starting  just  below the cuticle.
Press the tape down firmly to hold in place.
Now fill in the outline of the V with a black creme polish and immediately remove the tape strips while the polish is still wet. This will create crisper lines.
Clean up any excess polish on the skin.
Finally, add your faux gems by using gold or silver nail polish.  Dip a toothpick into the polish to create small dots that outline the V.  Begin with the dot at the tip of the V to help make spacing out the other dots easier.
Let the your work of art dry for 10 minutes, and seal the deal with another clear topcoat!
Say bye bye to boring nails and expensive manicures and HELLO to fabulously innovative designs made by YOU!
|
Print
Pages: 1 2