by Brandi Savitt – August 3rd, 2012

End of Summer Dessert Delight
*Thanks to Smittenkitchen.com for the fabulous photos!
Nothing beats the juicy taste of an end of summer peach.  So, if you're looking to get your bake on this Labor Day Weekend, and preserve the last flavors of summer, we have the perfect peach pie recipe for you.  -It also freezes well- think Thanksgiving!
Time estimate: approximately 1 1/2-2 hours, serves 6-8
Ingredients:
All Butter Almond Crust

2 cups all-purpose flour, plus extra for rolling
1/2 cup finely ground blanched almonds or roasted almonds
1 cup (2 sticks) unsalted butter, very-cold, cut into 1/2 inch cubes
1 teaspoon salt
1 heaping teaspoon brown sugar
6 to 8 Tbsp ice water, very cold
1/8 of a cup of milk (to finish the crust once assembled)
 Peach Filling
6 large peaches (8 small)
Juice of 1/2 a lemon (about 1 tablespoon)
1/4 cup granulated sugar
1/4 cup light brown sugar
1/4 teaspoon ground cinnamon
1/8 teaspoon sea salt
2 tablespoons of powder tapioca
Crust Instructions: Recipe inspired by Simply Recipes

-Note: You can make the crust up to 2 days in advance.
1.  Combine flour, salt, sugar and almonds in a food processor; pulse to mix. Add butter and pulse 6 to 8 times, until mixture resembles coarse meal, with pea size pieces of butter. Add ice water 1 Tbsp at a time, pulsing until mixture just begins to clump together. If you pinch some of the crumbly dough and it holds together, it's ready. If the dough doesn't hold together, add a little more water and pulse again. Note that too much water will make the crust tough.
2.  Remove dough from machine and place in a mound on a clean, well floured surface.  If you want an extra flaky crust, shmoosh the dough mixture into the
table top with the heel of the palm of your hand a few times. This will help flatten the butter into layers between the flour which will help the resulting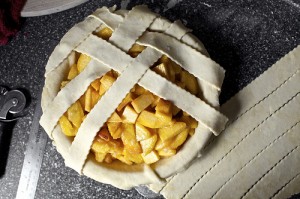 crust be flaky. You can easily skip this step if you want. Gently shape the dough mixture into two disks. Work the dough just enough to form the disks, do not over-knead. You should be able to see little bits of butter in the dough. These small chunks of butter are what will allow the resulting crust to be flaky. Sprinkle a little flour around the disks. Wrap each disk in plastic wrap and refrigerate at least 1 hour, and up to 2 days.
3.  Remove one crust disk from the refrigerator. Let sit at room temperature for
5-10 minutes in order to soften just enough to make rolling out a bit easier. Roll out with a rolling pin on a lightly floured surface to a 12-inch circle; about 1/8 of an inch thick. As you roll out the dough, check if the dough is sticking to the surface below. If necessary, add a few sprinkles of flour under the dough to keep
the dough from sticking. Carefully place onto a 9-inch pie plate. Gently press the pie dough down so that it lines the bottom and sides of the pie plate. Use a pair of kitchen scissors to trim the dough to within 1/2 inch of the edge of the pie dish.  Place in the refrigerator until the filling is ready.
|
Print
Pages: 1 2