by Stephanie Berenbaum – October 29th, 2012

Crafty Fall Fun for the Whole Family
A big shout out to all our East Coast friends and family – we are hoping that you stay safe and dry during Hurricane Sandy!  As so many of us are stuck inside for the next couple days, we wanted to share some Fab & Fru indoor activities to do with your kids to keep them busy and entertained.  Bonus – you'll actually end up tidying up your home and getting a lot of your holiday gifts made – all at the same time!
Recycled Robots
Being stuck inside is a great excuse to make one of our favorite crafts – Recycled Robots! Not only is this a fun activity, but it's a fantastic way to make some last minute Halloween decor for your home.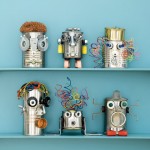 Start by having the kids (or you) clean out the toy chest.  You'll be surprised at how a random heap of broken action figure parts, wayward game pieces, a few pipe cleaners, a couple sad looking Mister Potato Head parts – that no longer have a head to decorate- can turn into something fabulous and fun!
Instead of throwing all that plastic, recycle it by piecing it together into crazy, creepy robots!   Wash out your empty coffee canisters and soup cans for the body of each robot, and start creating some futuristic characters.  --Parents, you should be in charge of the gluing for the younger kids.  Remember, this green activity should cost you no green at all!
Broken Crayon Sun Catchers
While cleaning out the kids art supplies, you're bound to find a mother-load of sad broken crayons.  A stormy day is the perfect time to transform these colorful remnants into crafty fall & fun sun catchers!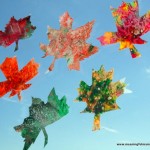 Remember making crayon/wax paper sun catchers when you were little?  But how many of us have actually taken the time to do it with our own kids?
All you need to do is gather up the broken crayons,  and….
Shave each crayon with a pencil sharpener or cheese grater.
Cut the wax paper into your favorite upcoming holiday or seasonal shapes.
Sprinkle your favorite crayons colors between two pieces of wax paper.
›Cover the top sheet of wax paper with an old towel
›Iron (using low heat) until shavings melt together
›If desired, cut two identical pieces of a 'frame' out of construction paper or poster board
›Glue the 'stained glass' in between the two sides of frame. –You may need to cut the stained glass to make it fit.
›Punch a hole in the top of your frame and add yarn
Hang in your window!
Get creative- these beauties make Fab & Fru gifts for the grandparents too!
Make Your Own Stamps & Greeting Cards
There's noting more fun than turning vegetables into functional art – and the kids will have a blast!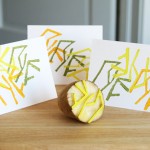 ›Start by washing a few potatoes, apples – and even celery!
›Cut the potatoes or apples in half.›
›Cut the celery 3 inches up from the bottom.  Make sure to make clean cuts.
›Leave the apples halves whole to make apple shaped stamps
›For a more complex stamp, draw the outline of the shape into the center of the halved potato or apple, or use a cookie cutter to start you off.
›Take a knife and cut the outline into the apple or potato.  Make sure your cuts are at least a quarter of an inch deep, then carefully carve away the outer edge away from the outline cut.
›Cut from the outside in, until you reach the cut of the outline. Trim away about a quarter inch, leaving just the shape that you drew in as a stamp.
›When your stamp is finished you're ready to paint.
Take any kind of printer paper, construction paper, or blank card stock, and stamp your way to adorable art and homemade greeting cards to give away this holiday season!
The Great Indoors
It may not exactly be a substitute for frolicking in a pumpkin patch, but with a little creativity, being stuck inside can be productive and super fun.
What are some of your favorite rainy day activities?  Let us know!
|
Print