by Brandi Savitt & Stephanie Berenbaum – November 19th, 2012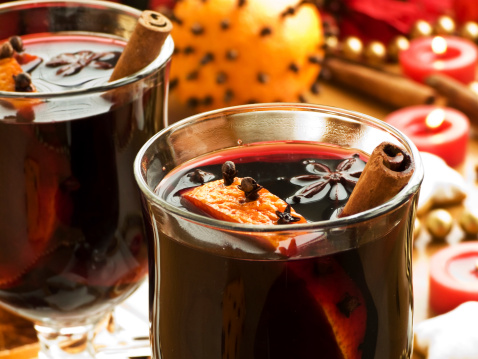 Entertaining One Pitcher at a Time
Let us guess: you're entertaining this holiday season, but don't want to spend the cash to fully stock your bar, right?  The Fab & Fru solution: make a seasonal signature cocktail instead!  Check out these three easy and delish bevvies by the bulk, and you'll be sure to put a festive – and frugal – smile on your guests' faces…
Pineapple Infused Vodka
2 fresh pineapples – cored
1 large bottle of the vodka of your choice
1 large glass lemonade or ice tea dispenser
*Prepare 3 days in advance
Create a sophisticated and decorative chilled delight that is so smooth – you're going to have to be careful not to drink too much!  Just fill a glass lemonade or large ice tea pitcher or dispenser with the rings or cut pieces of two cored fresh pineapples.  –The core of the pineapple is bitter.  Make sure and remove it, or it will change the flavor of the drink.  Then pour a one quart bottle of the vodka (of your choice- cheap vodka works just fine) over the the pineapple rings.  Make sure you have enough vodka to submerge the pineapple in the liquid.
Let the mixture sit for 3 days before serving to get the full flavor and smoothness of the drink.  It's best served in a chilled glass or on the rocks, but you can also mix with a some soda water for a little extra fizz.
Depending on the glass dispenser you use, the pineapple suspended in the clear liquid makes for a decorative conversation piece as well!  *Note: Depending on how fast people drink this holiday fave, you know it's time to pour it down the drain when the pineapple turns brown or the beverage itself loses its smoothness.
Glogg!
Many cultures have a tradition of serving mulled wine during the winter holidays, but my favorite name to say is that of the Scandinavian version: GLOGG!  Family friends of ours used to have a Glogg party every year, and in addition to being different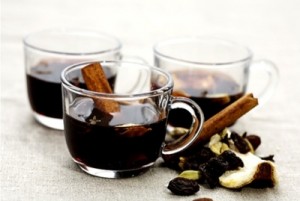 and unique, it is also very economical and easy to make in bulk.  Just start with a simple mulled wine recipe and then you can put your own international twist on it, from "Glogg" to "Vin Chaud" (France) to "Gluhwein" (Germany), they are all variations on a similar theme.
Many mulled wine recipes call for exotic additions such as flaming brandy, so you can get as crazy as you want!  But if you're really looking to cut down on costs, check out this simple recipe from Ina Garten -  it does not call for adding additional alcohol other than the wine.
Ingredients
4 cups apple cider
1 (750-ml) bottle red wine, such as Cabernet Sauvignon
1/4 cup honey
2 cinnamon sticks
1 orange, zested and juiced
4 whole cloves
3 star anise
4 oranges, peeled, for garnish
Directions
Combine the cider, wine, honey, cinnamon sticks, zest, juice, cloves and star anise in a large saucepan, bring to a boil and simmer over low heat for 10 minutes.  Pour into mugs, add an orange peel to each and serve.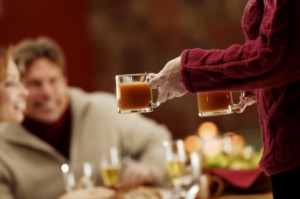 Hot Buttered Cider
Another delish memory from my childhood!  And while you certainly don't need to add the butter, I have to say it is a fabulously rich and indulgent treat for the holidays (Not to mention a great use for those odds and ends of butter you have laying around after your holiday baking).
Cider is one of the most Fab & Fru beverages out there – you can serve it cold for little kids, warmed up for older children, and spiked with alcohol for adults!  It's a one stop shop for your holiday beverage needs.  Here is a basic recipe (from Betty Crocker of all places) but for the non-alcholic version just leave out the butter, sugar and rum at the end.
Ingredients:
6 cups apple cider
1/2 teaspoon whole cloves
1/4 teaspoon ground nutmeg
3 cinnamon sticks
6 tablespoons butter
6 tablespoons packed brown sugar
3/4 cup rum
Heat cider, cloves, nutmeg and cinnamon sticks to boiling in 3-quart saucepan over medium-high heat; reduce heat to low. Simmer uncovered 10 minutes. Strain cider mixture to remove cloves and cinnamon sticks if desired.
For each serving, place 1 tablespoon butter, 1 tablespoon brown sugar and 2 tablespoons rum in mug. Fill with hot cider.
Another benefit to serving warm cocktails is that your guests will drink them slower than a cold cocktail – reducing costs and the potential for rowdy, drunken guests!  Wishing everyone a safe, delicious and Fab & Fru holiday season! 
|
Print