by Brandi Savitt – November 1st 2012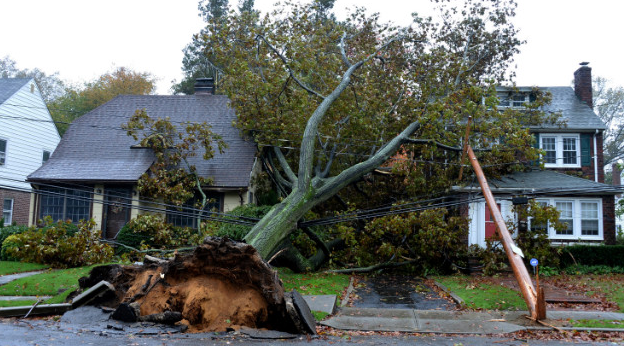 Is Your Damage Covered?
Walking around Brooklyn the last few days after Hurricane Sandy, and seeing just a glimpse of the devastation caused by the storm, made us wonder: does insurance pay for all of the flooding of people's home, the fallen trees and crushed cars?
As of this morning, there has been an estimated $20 billion dollars worth of property damage in the wake of Sandy.  And the reality is, many of us are likely confused about what our different insurance policies even cover.  So here is a Fab & Fru heads up about what home owner's and car insurance typically cover, plus some tips to get you started making your claim!
Crushed Cars
If you're one of the unlucky car owners who had your car crushed by a tree, unless you had splurged for Comprehensive Car Insurance, you will be stuck going completely out-of-pocket to repair the damage to your vehicle.  Comprehensive  automobile insurance covers just about everything except collisions, according to allinsuranceinfo.org, but it is not automatic – or required by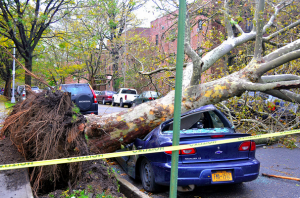 law.  Check your policy – you may be covered and don't even know it!
Fallen Trees
Homeowner's and personal property insurance generally cover the removal of fallen trees or limbs that cause damage to the structure of your home, garage or other dwellings on your property.  And if a fallen tree is blocking your driveway or entrance to your home, the removal will likely also be covered.  However…
If your (or your neighbor's) tree fell in your yard without hitting a structure, then you're probably on your own to pay for the removal.
If your tree fell on your neighbor's house, then their insurance will cover the damage and pay for the tree removal.
If your neighbor's tree fell on your house, then your insurance will cover the damage and pay for the tree removal.
Unfortunately, most insurance companies DO NOT cover the cost to replace the fallen trees.
Keep in mind, if your property gets damaged, your insurance pays regardless of who the tree belongs to, but be aware of your deductibles.  Both repairs and tree removal will have separate deductibles that you will need to meet before your  insurance kicks in…
|
Print
Pages: 1 2