by Brandi Savitt – updated November 21, 2012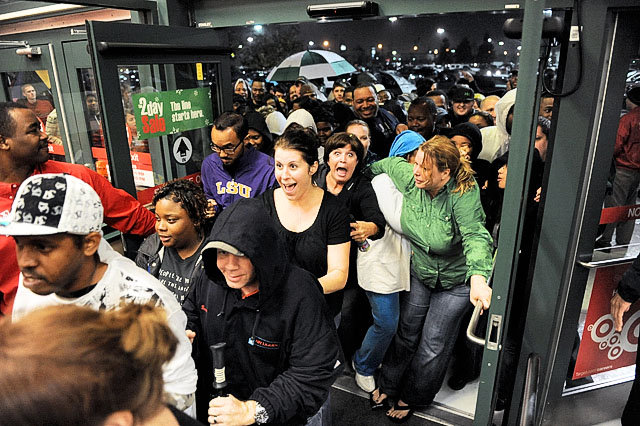 Save Your Sanity & Wallet by Shopping Online
From constant news reports to sitcom plot lines, Black Friday marketing has hit fever pitch! And with the economy hurting, stores are making an extra effort to entice you to spend spend spend this holiday season.  Many stores will open their doors ON  Thanksgiving this year – making all of us feel like we'll miss the deal of the century if we don't ditch our families and head out to the mall!
The truth is… the deals have already started – online.  Follow our Fab & Fru Black Friday tips to save your money and your mind this holiday season by getting organized and staying home on the biggest shopping day of the year!
Don't Shop in Stores on Black Friday
Unless you enjoy fighting the crowds and waiting in lines, or you have a very specific item that you want to get in your hands that day, there is no reason to leave your computer and go to the stores on Black Friday.  There are very few items on sale in stores that won't also be on sale online!
Stick to Your Shopping List
Before you start shopping online (or in the stores), make a list of the people you are buying gifts for, what you want to buy them, and the price limit for each gift.  Then most importantly, STICK to that list (and don't buy unbudgeted items for yourself)!  Overspending usually happens when you don't stick to a plan.  The worst thing you can do is to start the New Year off in credit card debt.  Remember – a deal is not a deal if you can't afford it!
Start Checking Sales Now
Good news for all of us!  Start checking your favorite sites and online stores RIGHT NOW for amazing deals.  In hopes of moving more inventory, stores have already started running their Black Friday deals – and expect them to last well into the season!
DO NOT Buy these Items on Black Friday!
From toys to Christmas decorations check out Emily Dovi's DO NOT buy until later list on Huffington Post!
Establish an Account In Advance
Don't spend an hour filling your cart with fantastic deals only to find out you can't check out before you set up an account.  Setting up your account after you shop could cause you to lose your sale items to a more organized shopper.  Protect your finds by making sure you have an account established and login before you start adding things to your cart!
|
Print
Pages: 1 2