by Stephanie Berenbaum – November 15th, 2012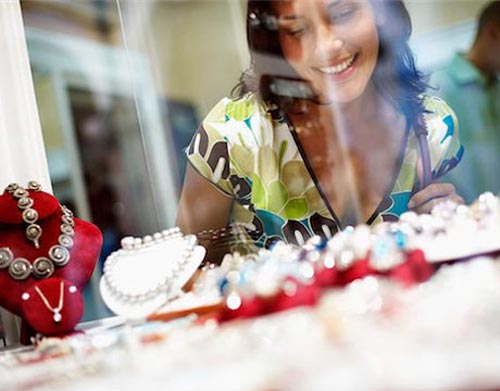 Diamonds Can Still Be A Girl's Best Friend
Just when you think this economy has put a major halt to your luxury jewelry habit, guess what – we've found a silver (actually more like platinum and gold) lining!
You may have noticed as the real estate and stock market tanked over the past few years, the price of diamonds and precious metals went up – way up.  Not a great combination when the price of jewelry is going up and the amount in our bank accounts is going down!  But don't despair – we have a very beautiful, very Fab & Fru solution for you!
Everything Old Is New Again
Our search for fabulous gems – that we can actually afford – has led us to a renewed interest in vintage jewelry.  Not only is vintage a way to secure a unique, historic piece, it is also a way to score major bang for a more minor buck!  We were lucky enough to talk to one of the industry's most respected jewelers, Claude Morady of Claude Morady Estate Jewelry in Beverly Hills, to get the 411 on vintage bling…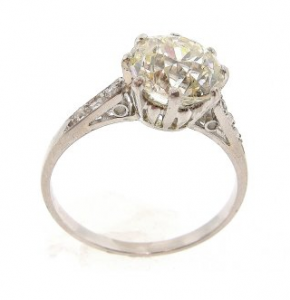 Don't Say "I Do" To Debt!
I asked Claude about engagement rings – because of course so many ladies grow up having their heart set on that "little blue box" from Tiffany's. But just why is Tiffany's (along with other famous luxe jewelers) so expensive?  As Claude pointed out, they have tons of marketing and advertising costs, not to mention hugely expensive rents.  Upscale chain jewelers put a tremendous amount of money into convincing you that you need their particular brand – but of course these costs are passed along to you, the consumer, in the price!
One reason vintage jewelry is so comparatively affordable is that most vintage sellers don't have to pay for major marketing, advertising or exorbitant 5th Avenue rents.  And because they are buying pieces which are already made, they also don't have to pay for the jewelry to be designed and created.  These savings get passed onto you!
Sign of the Times
Even clients who can still easily afford a name brand are trending towards vintage.  Why?  The beauty and craftsmanship of antique pieces are unique, and in many people's opinion far more beautiful than cookie cutter rings you can get anywhere.  You will often see intricate metal work and unusual gem cuts that are mesmerizing.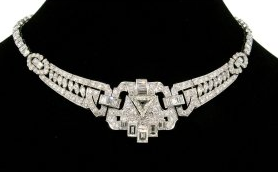 Plus, anyone who has bought vintage knows there is something magical about owning a piece of history.
The trend in today's economy is towards understated beauty – not advertising your net worth on your hand.  Vintage jewelry tends to have more of a focus on craftsmanship, design and originality.  And if you can pay way less for a far more original piece — that's a win-win no matter what your budget is!
In the Know
Word of mouth is the best way to find a trusted vintage jeweler.  Whether you are in the market for a wedding ring or just a holiday gift to remember, ask around to see who your friends know and love.  We absolutely adore Claude Morady and his wife Jennifer – if you live in the LA area you can go see them in person, consider yourself lucky!  And those of you outside of L.A. can check out their website and facebook page for a beautiful – and money saving – trip back through time!
|
Print