by Brandi Savitt – December 20th, 2012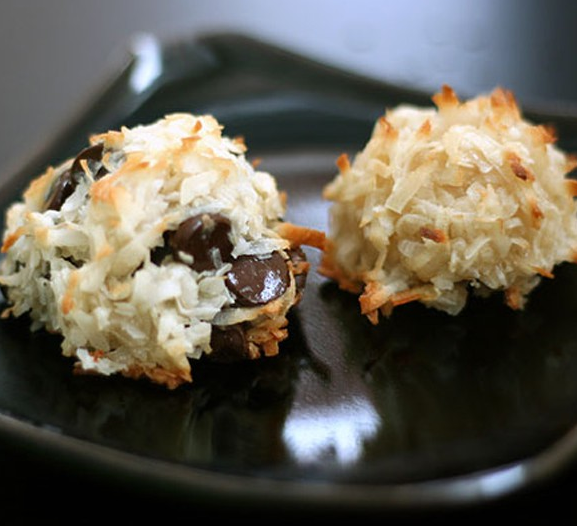 Mind Blowing Macaroons
Every year, the four apartments in my Brooklyn co-op have a tradition of leaving a holiday treat of some sort at each others' doorstep.  It's a building of foodies and cooks – many of whom have recently sworn off table sugar and sweets (myself included).  So this year, I decided I'd attempt to master the art of making coconut macaroons with a sugar alternative.  How hard could it be?  Both the vegan and regular recipes all looked so easy.  All I would have to do is play with adding the right amount of agave (a lower glycemic choice to table sugar) to my unsweetened coconut.  Piece of cake…  Not!
A Tasty Disaster
While it was easy to make a scrumptious macaroon batter, what I discovered was, it is surprisingly difficult to make a coconut macaroon that does not instantly crumble when you pick it up.  Hence began my three day, $40 baking tear.  From substituting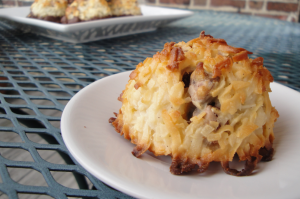 coconut milk for condensed, to losing almost all liquids, I finally had success!
This Fab & Fru recipe is so quick, easy – and dare I say a little healthier -  these macaroons are perfect to give as a last minute holiday gift or bring to a dinner party any time of the year.   In just 45 minutes, I whipped up these bad boys, baked them, and had my kitchen spotless!
Agave Coconut Macaroons Recipe
Pre-heat oven to 350.  *Makes about 40 macaroons.
Ingredients:
6 egg whites
1/2 teaspoon of finely ground sea salt
14 oz of unsweetened shredded coconut
1/2  cup of agave nectar (use a pure, low processed agave that has nothing added to it)
1 tablespoon of fresh lemon juice
2 teaspoons of pure vanilla extract
2 tablespoons of flour (a gluten free flour will do the trick too)
1 Large Bar of quality 70% dark chocolate (optional)
*Note:  While agave does have a lower glycemic index than white table sugar, it is primarily fructose (sugar).  If you are diabetic or have blood sugar issues, please check with your doctor before freely using agave as a alternative sweetener.
|
Print
Pages: 1 2