by Alexandra Pauline – December 10th, 2012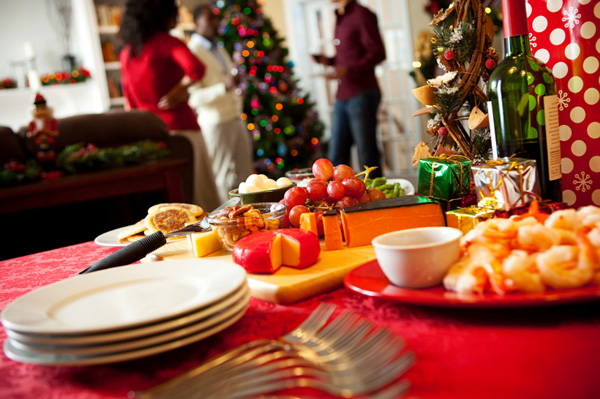 The Magic of Minis
When it comes to food, there's nothing cuter than a bite sized version of a culinary favorite.  So, if you're hosting a holiday party or just want a quick way to whip up a delicious, adorable and affordable appetizer to bring to your next potluck, try these Fab & Fru minis on for size!
Veggie Dip Baguettes
When hardcore carnivores can't get enough of a vegetarian dish, you know you're onto something!  These super cute and healthy veggie dip baguettes are the festive crowd pleaser of your dreams.  All you need to do is pick up a fresh baguette and cut it into sections.  Hollow out the middle (leave a bit to hold the filling) and stuff with your favorite dips, from spinach to hummus.  Cut up peppers, carrots, pea pods, or asparagus to add color.  Arrange the veggies in your mini bread cups, serve on a platter …and voila – an eye catching AND nutritious bite sized delight!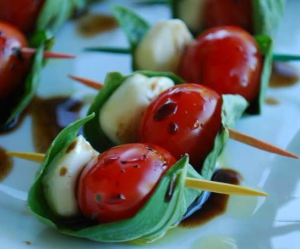 Mozza-bella Balls
Get a pack of sweet cherry tomatoes and have a ball this holiday with our mini "Mozza-bella" Balls!  This time saving treat calls for nothing more than fresh mozzarella cheese, a cherry tomato, a drizzle of balsamic vinegar and fresh basil.  Take your mozzarella and tomato and wrap in a basil leaf.  Use a toothpick to hold the ingredients together – then drizzle with your best balsamic vinegar – yum!
Little Lox Crostinis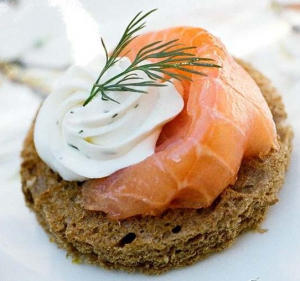 Even if you sleep through your alarm clock, you'll still have time to spare AND prepare these no cook cuties – perfect for a holiday brunch!  Rye bread rounds, Melba toast, or even bagel chips act as a perfect foundation for this fishy fave.  Add a smear or dollop of cream cheese, and a rolled piece of lox or smoked salmon.  Bring a little extra zing by decorating your miniature with a sprinkle of chives or a sprig of dill.  Simple, classic and delish!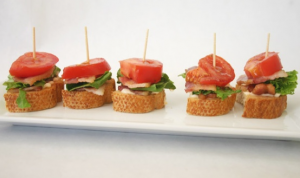 The Bitty BLT
Mix up your cocktail hour with a new twist on an old favorite – the BLT!  Fry up some bacon, and break each piece to fit on a baguette round.  Take the baguette and cut it into thin pieces, brush with olive oil and toast in the oven until the tops turn golden brown.  Let cool and add a thin smear of mayo or thousand island dressing onto each piece of toast.  Slice a small tomato, and layer each toast round with bacon, romaine lettuce and top it with a tomato slice.  If you want to get extra creative, add a layer of your favorite cheese or a slice of avocado.  Hold it all together with a party pick, and watch your guests light up with holiday cheer!
Save time & money this Fab & Fru party season!
|
Print