Using What You've Got
Are you hosting Christmas Eve or Christmas and want to spice up the look of your party even more with a little extra holiday spirit?  There's no need to race out and buy more decorations when you can make a festive statement using the supplies that you already have. Check out these Fab & Fru ways to put some dash into your holiday decor – without spending more cash!
The first mantra of being Fab & Fru is: Use what you've got!  This not only eliminates the need to spend money, but also the stress of elbowing your way though last minute holiday shoppers!
Wrap Your Table or Door Like a Present
If you have wrapping paper remnants lying around, don't let them go to
waste!  Use them to design a festive table cloth instead.  Just create a runner with a longer piece of wrapping paper, and then use the smaller pieces and scraps to create a unique collage of different colors, patterns, metallics, trees, Santas, or whatever combination you fancy.  Use ribbon and tape a bow to the front of the table to really put the finishing touch on your gifty design!
For those who live in apartments, this is also a great way to add a festive touch to your front door.  Just cover the whole door in paper and a big bow (Steph's mom used to do this every year) and it creates an easy, festive entry!
Fill Your Fancy Glasses with Candy
You may not want thirty tipsy guests walking around the party sipping wine out of your finest crystal, but you CAN use those glasses to create a candy land theme on your dessert table.  Seriously, what good are all those wedding gifts doing just sitting hidden in your cabinets?!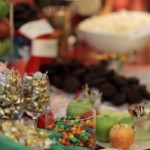 Fill wine glasses, martini glasses and champagne flutes with colorful M&M's, peppermint candies, gold & silver Hershey Kisses- or what ever you have laying around.  Fab & Fru tip – this is how we like to use up our leftover Halloween candy – I just found half of a giant bag of Tootsie Rolls that are still edible – and will be displayed in fine crystal come next week!
Spare Change For Charity
Another thing most of us have scattered around the house – spare change.  So take a festive crystal bowl (or another clear container) and make it part of your holiday decor! Just put a sign on it saying "Spare Change For Charity" and let your guests put the name of their favorite charity on pieces of paper in the bowl.  Then towards the end of the evening (or if there is a lull in the party) you can have a drawing to see which fab charity your collection will go towards!
Map Quest
Stick an old map up on the wall for an instant conversation starter!  Have guests put stickers on it to show either where their home town is, or where they have traveled in the past year – you choose the theme based on your guests.  It's a great way to recycle old maps,  and a great way to get strangers (and awkward family members) chatting!
What are your favorite holiday decorating tips that don't require spending more on seasonal decorations?
Here's to a festive Fab & Fru Holiday!
|
Print