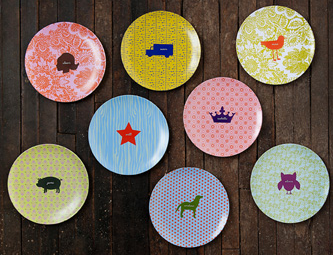 Win A Personalized Children's Plate
As you may have noticed in our 2012 Holiday Gift Guide, we are crazy for Little Uni's products!  We first fell in love with their personalized kid's tee shirts and clothing and now we're obsessed with their latest offering – Personalized Kid's Plates – the perfect Holiday Gift!
And guess what?  The ladies at Little Uni are giving away one Personalized Plate to a lucky Fab & Fru reader!  To enter, all you have to do is LIKE us on Facebook and leave us a comment telling us why you think this is the perfect gift for a special kid in your life!
Kids love seeing their names on these colorful, modern plates – and parents love that their melamine plates are BPA free and virtually indestructible – not to mention great to look at.
So, good luck to our Fab & Fru readers - ALL ENTRIES must be received by Tuesday December 11, 2012.  And in the meantime, please check out Little Uni for your holiday gift giving needs.  With plates starting at $24, and their signature tees starting at $30, it's easy to get a fabulous, unique and high quality kid's gift – at a very Fab & Fru price.
Good luck!
|
Print