by Stephanie Berenbaum – December 19th 2012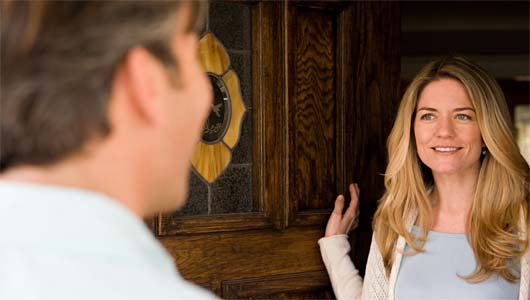 Knock, Knock – Who's There?
In my LA neighborhood, there are a shocking amount of solicitors going door to door.  While I don't mean to sound cold, this invasion of privacy honestly rubs me the wrong way – especially since I have known many people (myself included) who have fallen victim to giving money in exchange for a product – but never receiving what they paid for…  Scam after scam has led me to live by my jaded motto:  simply do not to engage.
I work from home – and so many salespeople come by that I have taken to keeping all the drapes closed so I can pretend that no one is home.  Whether it's people trying to convert me to their religion,  sell me candy for a school fundraiser, or a real estate agent offering their services, if I wasn't careful, it feels like I could spend all day telling people that I am just not interested…
The Dreaded Eye Contact
The other day, I had just gotten the kids home from school when there was a knock on the door.  Before I could stop him, my 7 year old drew the curtains back, and I saw two unfamiliar faces waving to me. We had made eye contact – CRAP.  So, I went to the door to politely tell the duo -  armed with clipboards – that I wasn't interested in whatever they were selling, doing, or trying to convince me of…
Fact Or Fiction?
I don't know if they caught me in a weak moment, or maybe I was trying to harness some holiday spirit after a difficult day, but before I knew it, I was fully engaged in  the story of their lives.  
They were in their early 20s, and both told me they came from a long line of poverty and public assistance and were trying desperately to break the chain.  They were trying to earn an honest living and care for their families. Suddenly,  I found myself sitting on my front stoop looking at  pictures of the young woman's 5 month old son, and hearing how it was the dream of the young man to attend culinary school back home in Ohio.
And yes, they were so convincing, I bought $100 worth of magazine subscriptions.
Truth Be Told…
As jaded as I am, something in me wanted to give these two the benefit of the doubt.  Maybe I was just sick of being cynical?  Whatever it was, I threw caution – and yes, some cash – to the wind.
Let's face it, I will be blown away if I ever see my magazines.  And while I don't like the idea of being scammed and losing money, I also feel oddly grateful that in the middle of my hectic day, these two solicitors gave me a personal connection to the struggles of others – a chance just to listen and to let someone to be heard…  I just hope they get their commission, even if I never see one month of the Jack & Jill subscription I ordered for my kids!
How do you handle door to door sales people?  What have your experiences been?  Are you just as cynical?
|
Print