by Alexandra Pauline – January 4th, 2013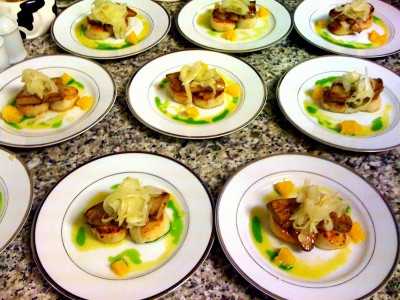 Dine in Style for Less
When most of us think of throwing a baby shower for a friend, hosting a special dinner party, or planning a romantic Valentine's Day dinner for two, we opt for going to a restaurant, or simply cooking ourselves.  It probably wouldn't cross our Fab & Fru minds to have a Sunday brunch we're hosting …catered.   That's an extravagant luxury reserved only for weddings and bar mitzvahs, right?  Well, not anymore!
Go Kitchen Surfing
Our friend, New York chef Alexander Testere, better known as The Breakfast Bachelor (pictured with his signature Fig and Pear Bourbon-Glazed Doughnuts), turned us on to his tasty budding personal chef business marketed through the very cool online service –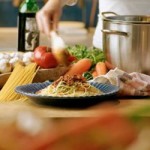 Kitchensufing.com.  Kitchen Surfing's goal is "to unify the intimacy of a dinner party with the ease of walking into restaurant."  From breakfast in bed, to your next office party or even an ethnically themed cocktail soiree, the site allows you to find the perfect chef to fit your taste buds and your budget – starting at $30 an hour, all rates have tip & clean up included in the estimate!
Finding a Chef
Kitchen Surfing allows you to read each chef's profile, sample menus, and most importantly – their client reviews!  From high end head chefs, to amateur home cooking aficionados, each candidate must prepare a meal for the Kitchen Surfing team before they're approved to offer their services on the site.  Every chef has a different specialty and spin – from vegan & gluten free to Indian or Italian.  You'll learn what languages they speak, and what supplies are included in their quote - all chefs include prep and clean up, and some can even come ready with certain appliances if your kitchen isn't fully stocked.  You can look through hundreds of photos to get a feel of exactly what each chef has to offer, and get inspired to create your own custom menu!
Catering to Your Needs
If you or your guests have allergies or any type of special requests, your chef will help you create a menu tailored specifically to your needs.  Not only will this ensure your meal is healthy and allergy free, booking a chef is a great way to experience the full possibilities of your palette within your restrictions.  Plus many of the chefs offer in home cooking classes too, so you can recreate your new favorite dish at your leisure!
How to Book Your Cook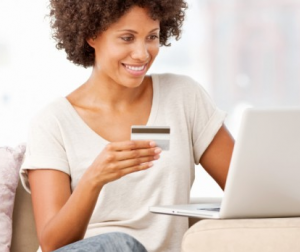 Kitchen Surfing's booking process is super easy, and your entire transaction is processed online – including your tip.  This way there is no awkward money talk with your chef, and they can focus on cooking – and you can stick to noshing on new dishes and enjoying your guests! As a brand new site that is on its way to cornering the market on peer to peer culinary service, Kitchen Surfing is in the midst of expanding.  As of now, they have chefs in New York, Boston and Berlin, but that doesn't mean you can't explore the concept before the service comes to your city.  Ask your favorite local chef if they'd be interested in helping you host your next party!
|
Print
Pages: 1 2