Recipe by Judith Finlayson from her book The Healthy Slow Cooker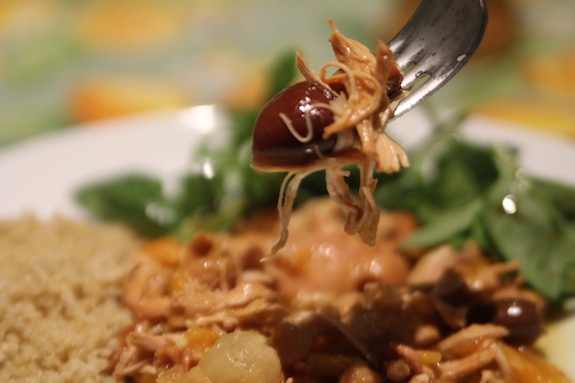 *Works best in slow cookers from 3 1/2 to 6 quarts.
1 1/2 cups chopped pitted prunes
1 1/2 cups water
1 tbsp of honey or agave
1 tsp lemon zest
4 garlic gloves, minced
1 tbsp dried oregano leaves, crumbled
1/2 tsp sea salt
1/2 tsp cracked black peppercorns
2 lbs skinless bone-in chicken thighs (about 8 thighs)
2 cups of chicken stock
1/4 cup lemon juice
3 cups of water
1 1/2 cups quinoa, rinse first
Prepare steps 1 & 2 the night before.
1.   In a bowl, combine prunes, 1 1/2 cups of water, honey, and lemon zest.  Cover and set aside.
2.  In the slow cooker stoneware, combine garlic, oregano, lemon zest, salt and peppercorns.  Add chicken and toss until evenly coat with the mixture.  Cover and refrigerate at least one hour – but preferably overnight.
3.  Add chicken stock and lemon juice to stoneware and stir well.  Cover and cook on Low for 5 hours or on High for 2 1/2 hours, until juices run clear when chicken is pierced with a fork.  Add prunes with liquid.  Cover and cook on High for 30 minutes to meld flavors.
4.  Meanwhile, in a pot over high heat, boil 3 cups of water.  Reduce heat to medium and add quinoa, stirring to prevent lumps from forming and then return to boil.  Cover, reduce heat to low and simmer until tender and liquid is absorbed – about 15 minutes.  Set aside.
5.  To serve, spoon quinoa onto a plate and top with chicken yumminess!
|
Print