by Brandi Savitt – February 28, 2013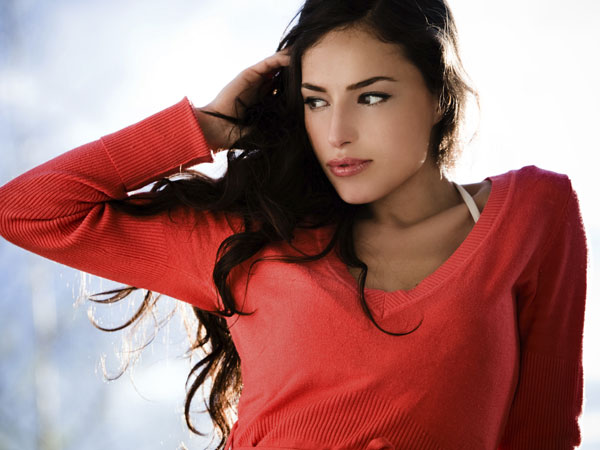 Low Cost Tips For High Impact Hair
Indian women are known for their head turning, healthy locks.  Check out these DIY Fab & Fru tips straight from the kitchen –  they'll help strengthen and add shine – and they're also rumored to help your hair grow faster while warding off the greys too!
Coconut Oil & Curry Leaf Scalp & Hair Treatment
Many Indian women say that coconut oil hair treatments were a ritual in their homes growing up, and often happened up to 1-3 times a week!  All you have to do is heat up a few tablespoons of organic extra virgin coconut oil on the stove or in the microwave until melted (at room temperature, coconut oil is solid).  Some women claim that mixing fresh curry leaves into the oil with help your hair grow faster, but this step is optional.
To apply,  dip your fingers into the warm oil and begin massaging it into your scalp. Then thinly coat your hair from root to tip. Braid your hair, or put it in a bun and cover your pillow with a towel.  It's best to leave the treatment on overnight before washing it out.  But if you are in a hurry a quick one hour treatment will give your hair a little boost!
If you do this treatment at least once a week, you will notice how much softer and stronger your hair becomes in just a couple weeks.  Bonus: coconut oil is rich in lauric acid which helps prevent hair loss – so let the fellas in on the secret.  Extra bonus: it's also thought that it helps reduce grey hair too!
Tip: Don't use so much oil that you'll need to shampoo your hair twice to get it out.  Shampoo is drying, and you don't want to take out all of the moisture that you just added.  A small amount will do the trick, just apply it to your scalp and ends thoroughly!
Dandruff-Fighting Vinegar
Having a dandruff problem?  The easiest remedy according to Indian women: vinegar! It's no surprise that this all-purpose household wonder would make it onto our beauty list…
Mix together 1 part vinegar and 2 parts water to use as a final rinse for your hair in the shower.  It will help restore the optimal PH level to your scalp while sealing the cuticles to make each strand of hair stronger and shinier.  This rinse will also helps to remove product build-up that may be suffocating your scalp, and therefore slowing down the growth of your hair.
The Wonder of Castor Oil 
Known best for it's old school power as a laxative, high quality castor oil also makes a miraculous skin and hair treatment with many health benefits.  But as far as healthy hair goes, castor oil is an excellent moisturizer, and is also known in India for it's mysterious ability to help hair grow faster and even generate growth where there is a bald spot.  This may have something to do with the oil's detoxifying and regenerative properties…
Apply the castor oil the same way you would the coconut oil treatment by massaging it into your scalp and working your way out to the ends.  Castor oil is thicker than other oils and therefore a little greasier.  Be sure to protect your clothes and sheets when using it on your hair.  Again, braid your hair, or cover it with a shower cap for at least 4-6 hours – overnight is best.
Share with us your favorite beauty tips from around the world!
|
Print