by Stephanie Berenbaum – February 20, 2013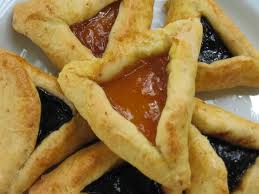 We Love These Tasty Triangles
This weekend, Jews all over the world will be celebrating Purim.  In case you're not familiar with all the festivities surrounding Purim – it involves costumes, celebrations, and one very delish, traditional Purim cookie – the Hamantaschen.  Go ahead and say it – Hah-man-taaschen. It's fun to say and even more fun to eat.
Every year at Purim, I  find myself headed to the store to buy perfect looking Hamantaschen from the bakery. But this year, I decided I might actually be able to save money – and create memories – by making them at home with my kids.  Keep in mind I find making Toll House cookies challenging, so this was a leap of faith for me …
Fab, Fru & Family Friendly Too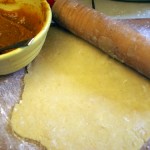 I realized that not only would it be cheaper to make Hamantaschen than to buy them, but that I probably already had most of the ingredients in my pantry.  Extra bonus? These easy to make treats are totally kid friendly and makes for a great Fab & Fru family activity.
Of course, I was also hoping our baking adventure would turn into a memory making family tradition – even if my kids' memories are of what a subpar baker I am…
A Recipe For Success
I always turn to Joan Nathan for my Jewish holiday recipes.  Click here  for her delicious Hamantaschen recipe!  Though she includes a recipe for making the filling you can also buy filling or substitute your favorite fruit jam.
Though they have an unusual name, hamataschen are basically triangle shaped sugar cookie pockets, with a fruit or poppy seed filling in the center.  Remember – yours don't have to look (and probably won't look) like perfect triangles.  Part of the fun is having your kids pinch and shape the triangles with you.   Enjoy!
Tell us – are you a traditionalist (poppy seed or fruit) when it comes to Hamantaschen filling? Or do you get fancy (Nutella, etc) with your filings? 
|
Print