by Brandi Savitt – February 18, 2013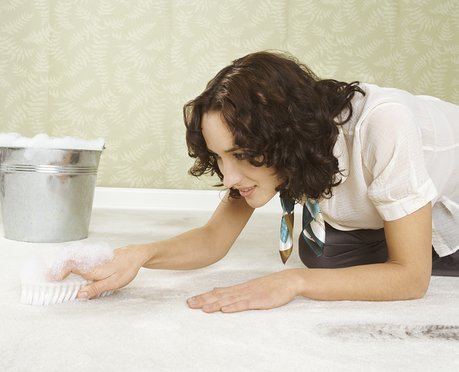 Tips to Make Your Home Green & Clean
No one is more equipped to give cleaning advice than Betty Anderson – 40 year veteran housekeeper at the Glamis Castle in Scotland.  After stumbling upon her interview with the BBC, we were impressed with her green and simple – yet genius – tricks of the trade.  Her tips will easily help turn any size home into a spotless palace – without having to buy expensive, chemical filled products!
The Power of the Lemon
Lemon juice is a domestic powerhouse and has been used as a stain remover for centuries.
For starters, use lemon juice (diluted with a little water) to remove rust on metal, stains on plastic (like cutting boards & appliance parts) , and carpet stains that do not come up with simple soda water.
Shine your stainless steel taps by rubbing them with a cut lemon.
Make your liquid dish soap work twice as hard and leave your dishes sparkling, by adding one or two drops of lemon essential oil, or a squeeze of lemon juice to the dishwater.
Clean grout with a mixture of baking soda and lemon juice.  Lemon juice is a natural lightener and baking soda is a natural scourer and odor absorber.
Remove Water Marks on Wood
Looking for a simple way to remove glass rings from your wood table?  Betty swears that rubbing half a Brazil nut onto the dry surface will take your stain away. She also says applying mayonnaise with a soft cloth onto the spot will also do the trick!
Vinegar, Vinegar, Vinegar
Like most professionals, white vinegar is a staple in Betty's cleaning closet.
Use it to wash glass and windows, but for a smear free finish, scrunch-up some newspaper and rub the window or mirror in a circular to give the glass a real shine.
Betty also recommends a solution of water and vinegar to spruce up wooden furniture. Wash the furniture with the solution, leave overnight to dry, apply quality furniture polish or oil to hydrate and buff the surfaces.
Unclog your shower head by soaking it in a vinegar.  First dismantle the shower head, then soak it them for 20 minutes.
Cola for Cleaning?!
You may never want to drink another Coke after reading these tips – but your toilet will thank you!  Remove hard water marks by pouring a can of fizzy cola down the toilet bowl – leave it for an hour, then flush.
A Glass of White Wine Please
Sorry, it's not for you…  If you're having a hard time removing the limescale and stains from your glass shower doors, a glass of white wine will do the trick.  Dampen a cloth with the wine, wash, and watch the residue disappear for good.  Then use your vinegar solution to make the glass sparkle!
Now, roll up your sleeves and get crackin'.  And let us know your Fab & Fru cleaning secrets!
|
Print