Think Outside The (Chocolate) Box
Yes, Valentine's Day is right around the corner.  And whether you view it as a "Hallmark Holiday" or not, most of us like to mark it with some sort of a sweet treat. But what to buy for those of us who want a departure from the same old box of drugstore chocolates?  Check out Fab & Fru favorites Modern Bite and Yummy Earth – both offer great value – and taste – for your Valentine's buck!
Modern Bite – Valentine's Box
You know how much we adore Modern Bite's sensational baked goods. Their modern, graphic designs completely set them apart from anything else we've seen – and yes - they taste as good as they look!  And for Valentine's day they are offering the most fabulous set of cookies (see above pic) for only $32. (Deadline to order for Valentine's Day delivery via FedEx 2nd Day is Monday at NOON!) 
Your honey will receive a gorgeous keepsake box filled with 12 of their designer Valentine's tile cookies – your choice of either deep chocolate or original sugar cookies.  Take a picture of these edible works of art, because once you taste them they won't be around for long!
YumEarth – 50% Off Deal is On at Target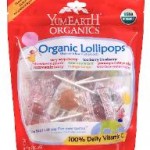 YumEarth organic candies are a Fab & Fru favorite in our household – it's the treat you can actually feel good about giving your kids! (Ok, and yourself – I can't stop eating them.) Even sweeter?  Right now Target has a temporary price cut of 50% off YumEarth Organic Lollipops and Gummy Bears - so right now you can buy bags that are regularly $5.00 for only $2.50!  No word on how long this delish deal will last for, so check it out asap…
Not only will your whole family love the taste – but you'll also love the fact that these YumEarth treats are organic, without high fructose corn syrup, artificial dyes or flavors and are even peanut and tree-nut free. YUM!
Fab & Fru Tip: Stock up now for Valentine's Day – you always spend more money than you intend to if you wait until the last minute to shop!
|
Print