by Brandi Savitt – March 7, 2013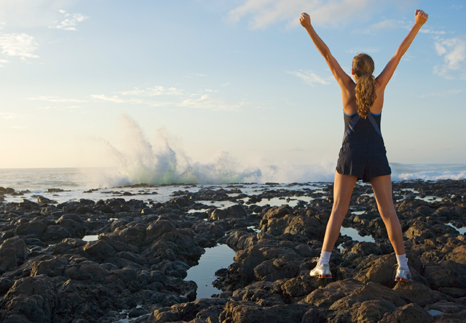 Get Money Motivated
Want to make a change in your life – but don't think you can afford what it would take to make it happen?  The real question should be: can you afford not too?  Life is too short to not to go for what we really want.  And as the dog days of winter linger on just a little too long, it's the perfect time to shake off the winter blues by setting some springtime goals and changing your spending and saving habits to reach them.
Whether you want to save for a big trip, move to a new city, or change your career – stop talking and start doing.  Change does not happen overnight.  No matter what your dream may be, these Fab & Fru tips will help get you on the path to fulfillment!
The Power of Choice
Many of us get stuck in old routines and habits just because it's easier than rocking the boat and taking a risk.  But is that REALLY how you want to live your life?  What are you waiting for?  The first step to change is setting a goal.
Commit to Your Goal
It's one thing to talk about doing something, and it's another thing to commit to making it happen.  Are you willing to take on a second job to save for the down payment on your first house?  Are you willing to stick it out at a job you hate until you save enough to start your own business?  Are you willing to bring your lunch to work in order to save for a new car?  Sacrifice and risk are all apart of making real change and reaching our goals. Think about all of our great grandparents who left their families in far away countries to create a better life in America.  Nothing risked, nothing gained…
Visualize Your Future
This may sound silly, but it's not.  Seeing is believing! Writing your goal down on paper or creating a vision board of what you want your life to look is key to staying on track.  Whether it's sitting on the beach in Tahiti for a week, or opening up your own B&B, visualizing your will help motivate you to stay focused on your goal.
Small Changes Yield Big Results
I have to admit, when I set my mind to something, sometimes it is easier to for me to make an extreme change to help me reach my goal.  But most people are the complete opposite.  DO NOT set yourself up to fail by making unsustainable restrictions on yourself.
Small changes can bring big results.  Think about it.  If you can save $10 a day bringing your lunch to work, in a month that savings could equal your plane ticket to a much needed get away.
From collecting your spare change, to doing an automatic direct deposit into your savings account each paycheck, to going to one networking event a month, you can change your future without changing everything at once.  But you DO have to start somewhere!
No matter what your goal may be, we challenge you this Spring to make a change, be true to yourself and start living. What are you waiting for?!
|
Print