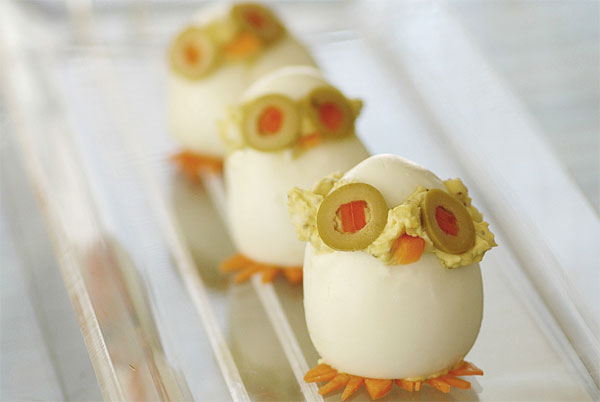 The Incredible Affordable Egg
It's Passover and Easter this week, and what way to celebrate (and summon the warm weather) than incorporate the symbolic and versatile egg into your holiday festivities.  Although these two holidays differ for religious reasons, both celebrate rebirth and renewal, and the egg plays a prominent role in both the Easter & Passover menus. A bonus? Eggs are one of the most inexpensive sources of protein you can buy.  At your local grocery, even high-end organic eggs are only about $4 a dozen – or 33 cents per egg.  Eggs can also keep for a long time when refrigerated, adding to their incredible value.
These favorite eggilicious dishes are not only perfect for both holidays – they're fun, affordable and can be enjoyed all year long!
Deviled Chicks
Fun for the kids & the adults to make, these favorite Fab & Fru chickafied deviled eggs not only make for an adorable decoration, they taste fantastic. Check out the recipe!
Curry Egg Salad
Simple, easy to make and absolutely delish, this egg salad recipe has a kick that makes for a fantastic sandwich, spread, or salad – anytime!
Superb Strata
Perfect for Easter brunch, Randee's Strata is so rich, hearty and irresistible you can even serve it for dinner!
Simple but Scrumptious Salad
Sometimes simplicity is best. This Egg-Cellent Salad is fresh, easy and captures the essence of Spring.  It makes for a perfect light lunch, or compliments any holiday brunch or dinner.
What are some of your favorite egg recipes? We'd love to hear your family traditions – that make use of this protein packed, penny pinching powerhouse!
|
Print