A Quest to Save, Reuse & Declutter
At the end of last year, our friend Jen announced that she was going to challenge herself to refrain from purchasing anything "new" in 2013.  As the mother of three young girls, Jen and her husband felt inundated with the amount of toys, clothes, and the regular old stuff that cluttered their Brooklyn apartment – not to mention wanting to cut their budget and their footprint on the environment.  An intriguing Fab & Fru idea, but barring any real emergencies, is Jen's plan sustainable in New York City with three growing kids and the inevitable urge to splurge?
Now, well into March, Jen has been sticking to her guns.  After a clothing and toy swap with some friends, and trading some of her unused wardrobe in at the Buffalo Exchange to get some "not so new" but cool duds, Jen is doing pretty well!  So, inspired by her drive to waste less and use more, we found some really fun and useful ideas from the Twisted Sifter, that all of us can do to help shrink our carbon footprint, reuse, recycle and save!
Organize Your Cables with TP Rolls
Want a way to declutter & recycle all at the same time?  Take an old shoe box and line it with empty toilet paper tubes.  All of a sudden you have a an easy access storage box to hold all your extra cables and cords that you don't know what to do with – and are too afraid to throw out.  Genius. Thanks Twisted Sifter!
Turn a Case of Wine into a Shoe Rack
We just love this idea of taking an empty case of wine, covering it with decorative paper, fabric, or a collage of pictures, and using it as a shoe rack.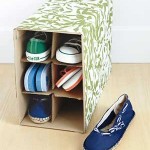 Super smart, fun and totally Fab & Fru!
Don't Lose Your Marbles!
If you have a fence, trellis, or anything wooden that has holes that you want to plug up, collect all the marbles from old games that you no longer use and plug the cracks with them. This simple yet brilliant idea is a beautiful way to reuse and recycle old toys.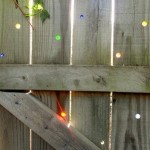 Adding a little reflective color to any outdoor or sun filled area, will get your guest talking in no time!
Tell us your favorite ways to recycle & reuse, and good luck on your quest Jen!
|
Print