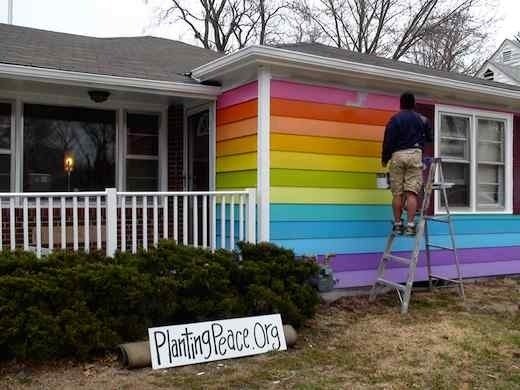 We've written about Planting Peace in the past – this amazing charitable organization helps save lives all over the world - on a shoestring budget.  We singled them out because even if you only have a dollar to donate, Planting Peace will literally save lives with it. Yes, they are totally Fab & Fru!
And when we saw their most recent venture, we were prouder than ever of them.
Aaron Jackson, founder of Planting Peace, is the person behind the Equality House. As you may have seen in the news this week, it's a house painted in Gay Pride colors – a symbol of Equality and peace for all – right across from the notorious Westboro Baptist Chiruch.  Westboro, as you may recall, is the church that organizes pickets of veterans funerals, and spreads messages of hate against gays, Jews and many others.
The mission of Equality House is to  "serve as the resource center for all Planting Peace anti-bullying initiatives and stand as a visual reminder of our commitment, as global citizens, to equality for all". A donation to Equality House is a great way to help support their message of peace and equality for all.
Even if you don't have a lot to give, Planting Peace will make your donation go a long way – we hope you'll consider supporting this very Fab & Fru organization.
|
Print