Check Out This Fab & Fru Find
I basically live in t-shirts, and I often advocate buying more expensive brands for a better fit that lasts.  Personally, I'd rather have two great looking tees than 10 so-so ones, wouldn't you?
But I recently made a fantastic discovery at Target – a Fab $10 Tee.  Finding it was like a needle in a haystack, which is why of course i want to share it with all of you!
Rivals Shirts 5x the Price
I was combing through the sea of t-shirts, about to give up, when I saw one they were advertising as a "day into evening" tee.  All that means is that it is more fitted and has stretch to it, giving it a more polished look.  At only $10, I wasn't hopeful – until I went into the fitting room.  The super flattering cut, longer length and body skimming style rivaled James Perse tees that I have bought for 5 times the price!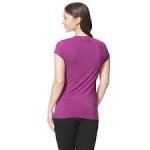 Mossimo Fitted V Neck
This Fab & Fru Find is called the Mossimo V neck – and for some reason Target seems to have made it extra confusing to locate it – so here are some tips…
On the tag it says "v-neck fitted" and "core tee", but for some reason online it is listed as the rounded V neck shirt.   It's 95% rayon and 5% spandex, and despite the tag saying to tumble dry low, we always air dry our tees – whether from Target or Splendid!
Don't let the stretch scare you off – it's fitted in a very flattering way, but not too tight – and comes in a ton of colors.  Not all cheap tees are created equal, but this one stands out for quality and fit – for just ten dollars, it's totally Fab & Fru!
|
Print