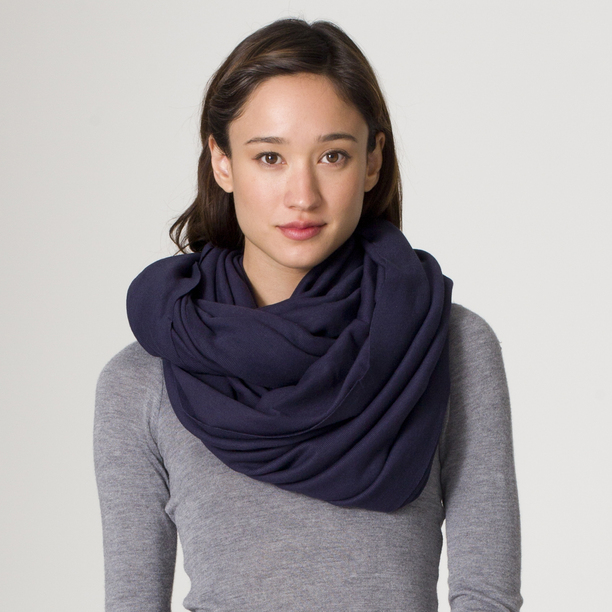 Fab & Fru Find – $28 Eternity Scarf
We love eternity scarves – they are a totally Fab & Fru way to elevate a simple tee-shirt and jeans to the next level.  But not all eternity scarves are created equal – as with any piece of clothing, quality, size, shape and fabric varies greatly.  But our search is over – we've found the winner on all fronts!
One Scarf With Multiple Uses
Our Fab & Fru fave is American Apparel's Unisex Circle Scarf!  At ony $28, it provides major bang for the buck.  Best of all, it has a luxurious feel to it that rivals scarves three times the price!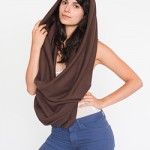 Some highlights: it is bigger than the average circle scarf making it even more versatile.  The fabric has stretch to it which makes it easy to pull over shoulders, up over your head to ward off chill, or even fashion into a chic bolero!
The Perfect Traveling Companion
Plus it comes in a zillion colors and did we mention – it's only $28!  It's size and cozy-ness also makes it the perfect traveling companion – you can ball it up into a little pillow on the plane, and then instantly transform it back into a fashion accessory when you get off – what could be chicer than that?!
Accidental Discovery
I first discovered it when a friend accidentally left hers at my house – and it was so fab I almost didn't give it back. I was sure she was going to tell me it was some uber-pricey brand – and was thrilled to learn it was American Apparel.  Remember – for something to be Fab & Fru it has to have not only low price but also high quality – and this scarf gets our Fab & Fru stamp of approval!
|
Print