Brandi Savitt – April 15, 2013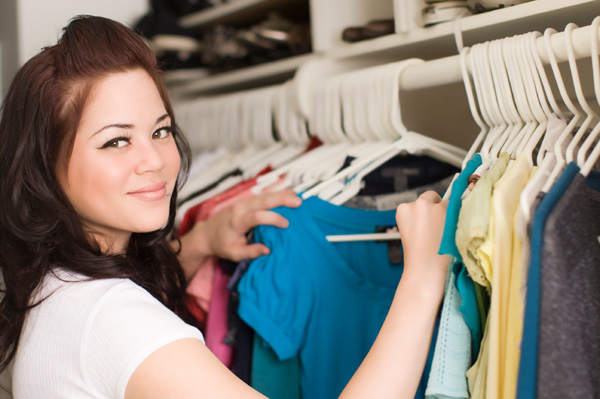 My $1,000 Spring Cleaning Score!
In Fab & Fru fashion, every spring I go through my closet to get reacquainted with my warm weather wardrobe – before buying anything new! Inevitably, as I put my classic faves back into summer rotation, I rediscover a fantastic item that had been banished for a couple of seasons. But this year, I was worried I may need a whole new summer wardrobe…
First off, my summer clothes were looking pretty tired.  Second – I have lost a size or two in the last nine months, and as exciting as that sounds, I didn't think much would fit me.  But instead of throwing my entire summer collection into a pile for Goodwill, I turned cleaning my closet into a money making adventure. From clothes to coins, I unearthed a savings of $400 and banked another $1,000.  Here's how!
Visit the Tailor
Taking inventory of your clothes at the start of a new season can be completely frustrating – and depressing – especially if none of your favorite clothes fit.  But if you're favorites are loose, or don't hang just right, take them to the tailor! It's easy, and could be a huge money saver in the long run.
Most dry cleaners have tailors on the premises who are more than qualified to take in a simple dress or a skirt.  Pants that are too big all over are likely not worth the money to reconstruct them to fit.  But I took in two dresses, two shirts and two skirts – and I'm thrilled!  And while the bill came to $120, it's still a great deal.  To replace six quality pieces would have easily cost me $500-$600 and a lot of time.
Take Your Duds to Buffalo Exchange
We've mentioned Buffalo Exchange before, but I finally got to experience this fantastic place first hand!  While the store has only been in my neighborhood for a year, it began in Tuscon in 1974.  In multiple locations across 17 states, Buffalo Exchange is part community consignment shop, resale store, and trading ground for cool seasonal clothes.  I took in a pair of spring flats, a dress that I hated, and a blouse, and they gave me the option of cash back or a bit more if I took store credit.  I took the credit for $55 and scored two adorable dresses for $30 – and I still have a $25 credit left on my account.  Look for a Buffalo Exchange near you – it was a super fun experience and totally worth it!
Cash in Your Change
For years, I have been throwing my spare change into this giant glass vase that I keep in my closet.  Well, this weekend I finally took it to the bank, and $350 dollars later, I was clicking my heels!
All that Glitters is Cha-ching!
In my closet cleaning rampage, I also decided to clean out and organize my jewelry box.  Mind you, I have NEVER gotten rid of anything (costume or real) – even if it was broken, or if I hadn't worn it since I was seven.  But I finally took three broken gold chains, a hideous ring from an old boyfriend and a broken bracelet in to to see how much I could get.  $600 later, I was smiling from ear to ear.
Not only do I have a clean closet, my efforts produced extra cash that I'm going to use to spruce up my summer look – from clothes to hair. Now that's wroth shopping in your closet for!
Share with us your money making spring cleaning stories!
|
Print