When People Go Too Far
In this week's wake of the Boston Marathon bombing and the explosion in Texas, the country has been left stunned and saddened by two devastating tragedies in just three days.  And while most of us want to show our support for the victims, there are people around the world trying to profit from the sensationalism of it all by selling  'memorabilia' on eBay and other sites.
In Bad Taste?
ABC News reported this morning that items like Boston Marathon car decals are going for about $5 on eBay, and jackets for up to $90. The medals given to participants who finished the race are selling for over $100.  In fact, one medal, advertised as "brand new," was selling for $306 and had around 25 bids.  The user wrote on his profile that he has run the Boston Marathon several times and sells his medal every year.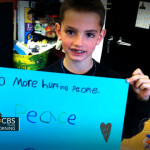 According to the report, dozens of eBay sellers are also auctioning off local Boston newspapers with 'Bombing" headlines from this week for over $10. There is even a 'participants' souvenir bag up for auction with a description that it contains wrappers from two protein bars consumed by a runner prior to the race.  And then there is the t-shirt seller from Romania,  selling a "RARE Martin Richard Boston Marathon bombing support" t-shirt for $22.89.  The t-shirt features the now famous "No More Hurting People – Peace" from the homemade sign that Martin was holding in the photo taken in his classroom before he died.  – Martin was the 8 year old victim who was killed in the bombing.
Where Are Your Proceeds Going?
While selling and buying straight up memorabilia feels more obviously twisted, there are also people selling t-shirts and decals with messages like "Pray for Boston" or "Never Forget".  And while many of us want to physically display our support, please only purchase shirts and stickers from charities that are actually donating money to the victims.  It is simply NOT okay for someone to be profiting off of any tragedy, and we should not support their behavior.
Boston Stands As One
If you are interested in buying a t-shirt to show your support, Adidas is selling a limited edition T-shirt to honor victims of the attacks.  All proceeds from the sale of the shirts will go to The One Fund, a charity announced Wednesday by Boston Mayor Tom Menino and Massachusetts Governor Deval Patrick to help those affected by Monday's attack.  Adidas is an official sponsor of the Boston Marathon and the Boston Athletic Association.
Note: In an email to ABC News, eBay stated: "We are deeply saddened by the Boston tragedy and our thoughts and prayers go out to those affected. Out of respect for victims, eBay does not allow listings that graphically portray, glorify or attempt to profit from human tragedy or suffering. eBay's teams are monitoring related listings to ensure they comply with our policies and also taking into account reports from our community members. When a listing is brought to our attention that may go against our guidelines, we carefully consider the context and all of the details, and decisions to remove items are made on a case-by-case basis. Anyone can report an item to eBay for review by clicking the 'Report Item' link on the listing."
|
Print