by Brandi Savitt – April 11, 2013

The 10 Cheapest US Cities
As the most expensive place to live in the United States, the cost of life in New York City would make any sane person's head spin.  But if Manhattan has the highest cost of living in the country – who has the lowest?  We stumbled upon this 2013 Business Insider article highlighting the top 10 cheapest cities in the US. Some of these gems are teeny tiny, while others like Memphis, may surprise you…
Conducted by the Council for Community and Economic Research, the determination of these cities was based on housing costs, utilities, groceries, transportation, health care, miscellaneous good and services. Check out what we found, and ask yourself – is your lifestyle worth the amount of money you pay for it?
10.  Ashland, Ohio pop. 20,362
Just a little over an hour from both Columbus and Cleveland, the welcome sign of this little city reads:  The World Headquarters of Nice People.  With the average mortgage under $800 a month, affording a big house with 'guaranteed' friendly neighbors – may just be something to consider!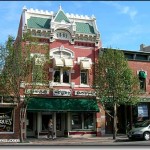 9.  Pueblo, Colorado pop. 106,595
Less than an hour from Colorado Springs, Pueblo is the largest steel producing city in the United States. It's also governed as a home rule municipality – a system that tries to facilitate local control and minimize state intervention in municipal matters.
8.  Muskogee, Oklahoma pop. 39,233
Rooted in Native American history, and commemorated in the 1969 Mere Haggard song " Okie from Muskogee, Carrie Underwood is also a Muskogee native!
7.  Wichita Falls, Texas  pop. 104,553
In addition to the Sheppard Air Force Base, Wichita Falls is also home to the world's littlest skyscraper - believe it or not!
6. Fayetteville, Arkansas pop, 75,102
Home to the University of Arkansas, Fayetteville is situated in the beautiful Ozarks and on  the outskirts of the Boston Mountains. Forbes Magazine ranked the Fayetteville–Springdale–Rogers area as the second-best area in the United States for recovery from the current United States recession.
5.  Memphis, Tennessee pop. 672,277 in the city & 1,316,100 included the greater metro area
Bustling with festivals and cultural events of all kinds, Memphis is best known for its music.  Jerry Lee Lewis, Johnny Cash, Elvis Presley, Carl Perkins, Roy Orbison, Booker T. & the M.G.'s, Otis Redding, and B.B. King all got their start in Memphis in the 1950s & 60s.  This southern city is by far the biggest town on this list!
4.  Ardmore, Oklahoma pop. 24,283
Located 90 miles from both Oklahoma City and Dallas/Fort Worth, Ardmore is known as a hub for business, culture and tourism in the region. The only publicized down side? Despite it's proximity to Mexico – there is apparently no good Mexican food in town.  –Calling all foodies- I spy a major culinary opportunity!
|
Print
Pages: 1 2