5 Travel Spots You Can't Afford to Miss
Planning a vacation?  It is possible to have a big adventure on a small budget when you travel Fab & Fru style!  We've narrowed down both Lonely Planet's and Budget Travel's top value destinations for 2013, and picked our Fab & Fru favorites to share with you.  Bon Voyage!
Antalya, Turkey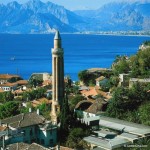 If you've never heard of the Turkish Riviera – listen up! Budget Travel describes Antalya as part beachfront, part metropolis, and part ancient town. Eastern Europeans have flocked to the beaches of Turkey for years – and this year hotel and resort prices have dropped almost 25 percent! Whether you're looking for a little luxe for less, or you'd rather explore more Medieval accommodations, Antalya is ideal for an early summer or fall beach getaway…
Ko Phi Phi, Thailand
Known for it's turquoise waters, leaf-blanketed limestone peaks, and signature longtail boats -  think the movie The Beach (& see main picture above) – Ko Phi Phi is less known than nearby Phuket.  Though devastated by the tsunami of 2004, the island is well on its way back to becoming a luxury tourist spot – and there are still deals to be had.  Hotel rates have dropped by 27 percent this year – to an average of $151 per night.  If you're looking for beauty and tranquility, Ko Phi Phi may just be that affordable oasis you've been dreaming about!
Nashville, Tennessee
The capital of country music, Nashville continues to attract visitors with it's southern charm, soulful songs, and famous "hot chicken".  According to Budget Travel, chefs are helping to transform Nashville into a new culinary powerhouse.  From architecture to good eats, Nashville is a heavenly slice of affordable Americana.
Portland, Oregon
For those of you who are looking to explore the Pacific Northwest, Lonely Planet toasts Portland as one of the best cities to visit on a budget.  In addition to cheap eats and free activities, there are forty plus breweries with pints often costing only $4!  Portland is a hip, budget-conscious destination – think the TV show Portlandia…
Rio de Janeiro, Brazil
If you've always wanted to visit Rio de Janeiro's beaches and iconic landmarks, Lonely Planet reminds us: this may be the year to do it.  With Rio hosting the World Cup in 2014 (also taking place in other cities around Brazil), and the Olympic Games in 2016, the city is likely to turn into a pricey hot spot over the next few years.   Get your Brazil groove on soon if you want to experience it for less!
What are your favorite budget travel spots around the world?
|
Print