Wow Mom with these Fab & Fru Ideas!
Calling all Daughters, Sons and Dads – it's not too late to doing something special for mom this weekend.  Remember – the most thoughtful gifts are not always the most expensive.  Check out these last minute Fab & Fru Mother's Day ideas, and show your mom just how much she means to you!
Tulips!
While flowers are not the most creative gift to send mom on Mother's Day, it's hard to go wrong with a bouquet of spring beauty.  Don't settle for roses and baby's breath when you can brighten up her day with an array of colorful tulips.  It's not too late to order flowers in time for Sunday, but it will be soon. Order now!
Get Creative with a Homemade Card
Nothing says I love you than a little imagination and a homemade card.  We saw these super clever and cute card ideas on the Real Simple site.  Get inspired by a childhood memory, mom's favorite candy, or a seed pack of her favorite herbs or flowers.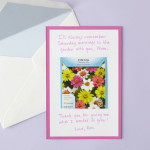 Creating a personalized card can also double as a meaningful present!
Create Your Own Impromptu Cookbook
If your mom loves to cook or bake, gather interesting recipes online or type up your family's favorites and print out your own cookbook.  Themes are fantastic: cookies, soups, old time family secret recipes.  You can create the book yourself, or take it to Kinkos and have it bound.  The key is to make a fun and meaningful cover and notes throughout the book.  You can be as simple or as elaborate as you want.  Serve it up with a plate of your favorite recipe from the book.  Double chocolate brownies anyone?
Lure Her to Lunch or Dinner
Want to treat mom to dinner or lunch? Sneak over, fill her tank up with gas (a very thoughtful gesture) and program your dining destination into her GPS.  Then  surprise her with the whole family or one on one with just you. Quality time with you and a getting an annoying and pricey errand out of the way for – she'll love it!
If All Else Fails…
Breakfast in bed is an all time favorite of moms, grandmas – you name it.  Nothing is sweeter than waking her up to her favorite homemade breakfast, cheery flowers or decorations, and a hot cup of Joe.  The key to ultimate success – let her sleep in.  Every mom covets those stolen moments of extra sleep in the morning, where no one is asking her for a thing.  Dad- this one is all about you taking charge!
|
Print