The Hunt For An Affordable & Attractive Swimsuit
Memorial Day weekend is here – the official start of summer.  I should be more excited, but I recently realized that – like my young sons – I have outgrown my swimsuits!
All this meant, of course, swallowing my pride to go swimsuit shopping. Not only did I want excellent (think Esther Williams) coverage, but being Fab & Fru, I also wanted a reasonable price.
The Big Day
I decided to take one full day to devote to swimsuit shopping, feeling that it would be better to just have one really bad day rather than drag the humiliation out over weeks.  And to narrow down my suffering, I curtailed my search to only those with built in "control".
With some higher end offerings (like Spanx) pushing $200 a suit, I was determined to find something less expensive that I still loved.  Or at least didn't hate.   And at the end of the (very long) day, I actually came across some real winners from some really unexpected brands!
Tommy Bahama Tummy Control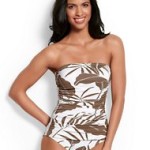 I never shop at Tommy Bahama. I mean never.  But buried in the very back of an overcrowded rack at Macy's I found a few swimsuits in neutral tones and slimming patterns that actually covered my entire butt and had built in tummy control panel. When I saw the brand I was shocked – all the ones I liked were Tommy Bahama!  They have a great built in tummy control panel and start around $128. 
Old Navy Control Max 
Again, this was a lesson in never say never.  I love Old Navy for t-shirts and cover-ups but wouldn't have thought they would be a great place to find a control panel swimsuit.  Luckily, I was wrong!  Their control panel was much stronger than any other brand I tried on and came in many flattering styles to boot!  At at just under $40, these suits are a true Fab & Fru find!
Wishing everyone a safe and happy Memorial Day Weekend! And for more tips on how to have a Fab & Fru summer, be sure to check out our articles on our favorite summer sandals, best cheap sunscreens and the Fab & Fru of hair removal! 
|
Print