by Stephanie Berenbaum – May 22, 2013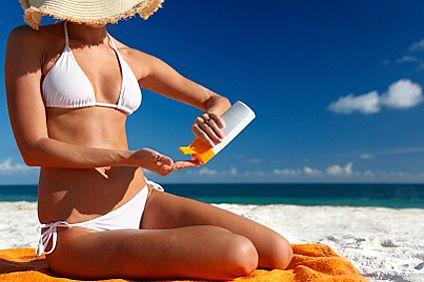 Paying the Price for Sun Protection
Buying a Fab & Fru sunscreen is about more than just price.  We don't care how cheap a sunscreen is – if it is filled with potentially harmful chemicals, it has no value.  Luckily, the Environmental Working Group (EWG) came out with their 2013 Sunscreen Guide this week!  Their handy guide lists sunscreens by safety and also by price!
For a sunscreen to truly be Fab & Fru Approved, it needs to be affordable AND offer great sun protection AND have least amount of hazardous chemicals possible…Not so easy to find!
What's The Rub?
Many sunscreens are filled with chemicals and ingredients that are toxic or questionable at best.   Some of the common ingredients EWG recommends avoiding are Vitamin A derivatives – like retinyl palmitate – and ones made with the chemical oxybenzone, which many experts believe is linked to hormone disruption.
EWG also recommends avoiding those spray sunscreens to avoid lung issues.  And, surprisingly, they don't recommend SPFs of over 50 because people tend not to reapply them as often as they should and end up getting burned!  And last but certainly not least, you should only buy sunscreens that protect against BOTH UVA and UVB rays.
Not All Coppertone is Created Equal
Many of the sunscreens which are high on safety and low on price are NOT widely available – which is why we're happy to see Coppertone once again make the list of best sunscreens.  But hang on – they also made the list of worst sunscreens!  
This is why is helps to carry an ingredient cheat sheet with you when you go shopping.  While some formulations of Coppertone are ranked high for safety, ones that look almost identical are on the EWG "High Hazard" list!
For example: Coppertone Water Babies "Pure & Simple" SPF 50 is a top pick – it is cheap, one of the safest, and easy to find at most drugstores.  But if you run in and accidentally grab Coppertone Water Babies SPF 70 – you have just picked one of the worst!  Why? Because the higher SPF version  has the added ingredient of oxybenzone – the potential hormone disruptor.  So, beware – many of the good and bad choices look almost identical, so it is imperative to take a detailed list with you so you don't waste money – or jeopardize your health.
Here's to a summer of sun, fun and protecting your skin.  Enjoy!
What is your favorite Fab & Fru sunscreen?
|
Print