by Julia Brady – June 26, 2013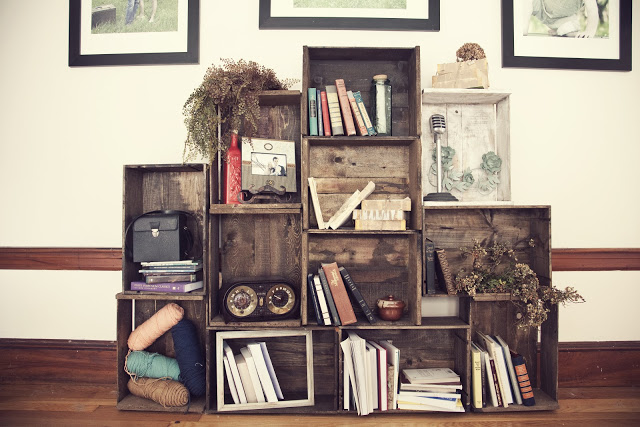 DIY Wine Crate Projects
Re-purpose old wooden wine crates with these creative and easy projects.  Make fabulous and functional new pieces of furniture without spending more than a few bucks!
Decorative Storage
Mix some white acrylic paint with water, and white wash the entire crate.  Find some inexpensive stencils at your local craft store, or make your own buy cutting designs into construction paper.  Then just paint the designs on using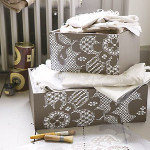 a high gloss paint – you'll be amazed at how much character your crates have!
Once dry, this crate can be a night stand, storage box, or a double shelved shoe rack that will easily fit in the bottom of any closet.  Stack multiple crates together for a DIY bookcase!
Get Organized
If the wine rack has an interior lattice or crisscross of wooden planks, it can be turned into a great organizer!  Hang on the wall in your foyer for a place to quickly stash mail, or keep it on the ground for a place to put umbrellas.
This same type of wine crate can be hung in the kitchen as a decorative space to put spatulas, salad tongs, ladles, and other long handled objects that can easily slide into the cubbyholes.
Sit in Style
You can also turn the wine crate into a bench for extra seating.  Just buy some small pillows or cushions and place them on top of the overturned wine crate – and of course make sure you have a crate sturdy enough to hold people!
You can glue the cushions down, or leave them loose for easy changes.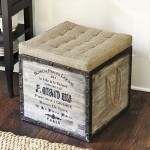 You can paint the crate or leave it unpainted, but make sure to sand it down so that you don't get any splinters!
For a different form of seating, you can buy cotton batting from any fabric store, and use a staple gun (or nails), to cover the top of the crate with it.  Use as much batting as you want, depending on how soft or fluffy you want your seating to be.
Buy a few yards of a fun fabric and cover the batting with it.  You can use a staple gun to secure the fabric, or use nails to create a more rustic look.  You can even use metal studs to create a studded border around the fabric.  And if you want to paint the crate, just make sure the paint is dry before you start with any fabric!
What other ways have you repurposed old crates and boxes?  We want to hear your most Fab & Fru furniture ideas!
|
Print