by Stephanie Berenbaum – updated June 21, 2013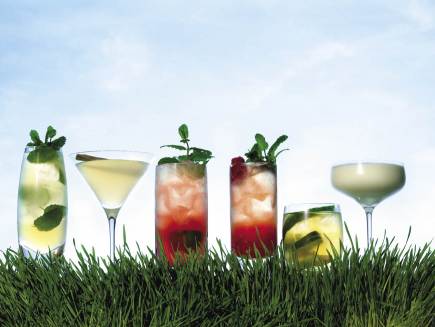 *** Every year, just in time for the onset of summer, something astronomically expensive seems to break in my house.  Being an optimist, I just look at it as one more great reason to raid my liquor cabinet.  
This year, it turns out that our nearly 90 year old home is allowing quite a bit of rain inside the house.   So, as the pick axes go to town on my crumbling walls, I feel quite certain I could use a drink!  As you can see from the previously published article below, my house really does like to revolt against me in the summer… 
Refreshing Drinks to Help You Keep Your Cool
With not much relief in sight, the record breaking heat sweeping the country has turned this summer into one of the hottest in history!  So you can imagine my excitement when my house started to feel suspiciously like a steam bath over the weekend.  As the thermostat read 85 degrees, my stomach dropped.  The little snowflake indicating that the air was on full blast couldn't fool me – my house was hot, hot, hot.   After several unsuccessful days of willing the the cool air back into action, we finally called the pros in. The diagnosis? Our central air AND heat were broken — UNREPAIRABLE.  The whole system was shot and needed to be replaced. Fantastic… So, two sweltering days, one expensive service call and a $13,200 replacement estimate later – I really needed a drink!
So, they say when life gives you lemons, make cocktails, right? What better time for me to invite some friends over to explore some favorite Fab & Fru summer cocktails.  All these recipes are spiked to dim my thoughts on the shocking amount it will cost to replace our entire heating & cooling system, but most of these drinks can easily be turned into virgin bevs too.   And yes, there will be an article on what to do when faced with a $13,200 air conditioning bill, but first…
It's All in the Ice Cubes
If you're looking for an easy, festive way to make your summer cocktails look and
taste spectacular, get creative with your ice cubes!  Change a simple vodka & soda into something special by replacing regular ice cubes with frozen fruit.  Also, don't water down your coffee cocktails with regular ice, give them an extra caffeine kick by making coffee ice cubes instead!
Spice It Up with Herbs
Fresh herbs are another fantastic way to turn an ordinary mixed drink into a refreshing show stopper. Experiment by adding fresh mint, basil or rosemary to simple cocktails and revel in pure delight!
Favorite Drink Recipes for All Occasions
Anytime Brunch

Good Morning Iced Coffee! Chill a pot of coffee in the fridge for a couple of hours or over night.  Add coffee ice cubes to each glass, and perk up each drink with little milk and a splash of Kalhua or Baileys Irish Cream!
Bloody Maria! Tequila is not just for shots & margaritas!  We ran this recipe a while back — but, honestly, what could be more perfect for summer than this twist on the Bloody Mary – just substitute tequila for vodka and give your brunch guests a little spicy edge to kick off the day!
Cocktail Hour
Sangria – Our perpetual summer favorite for a cheap to make expensive tasting beverage that is almost limitless in it's incarnations! Try two of our Fab & Fru favorite recipes: Celebratory Sangria & Roasted Peach & Basil Sangria!
Car and Ian's Prosecco & Pomegranate – Re-purpose a holiday favorite!  We love making this cocktail of pomegranate juice and Prosecco for holiday parties – the rich red color is celebratory and festive.  However, ice cold Prosecco and fruity pomegranate are the perfect alternative to a Kir Royale!  Of course for friends who don't want the alcohol they can enjoy the delish pomegranate juice as a spritzer mixed in with a little sparkling water or club soda.
Brandi's Gin-ger Brew-  This super easy crowd pleaser is so refreshing your guests will think you're a ginger genius!  Just mix spicy ginger beer (ginger ale can also be used for the faint of heart) with a healthy splash of gin and lot of cut fresh mint.  Pour over ice and –magic! Take out the gin and the drink still rocks!
Here's to  the start of summer!  And hopefully nothing else breaking in my house for a while… 
|
Print