Recipe By Julia Brady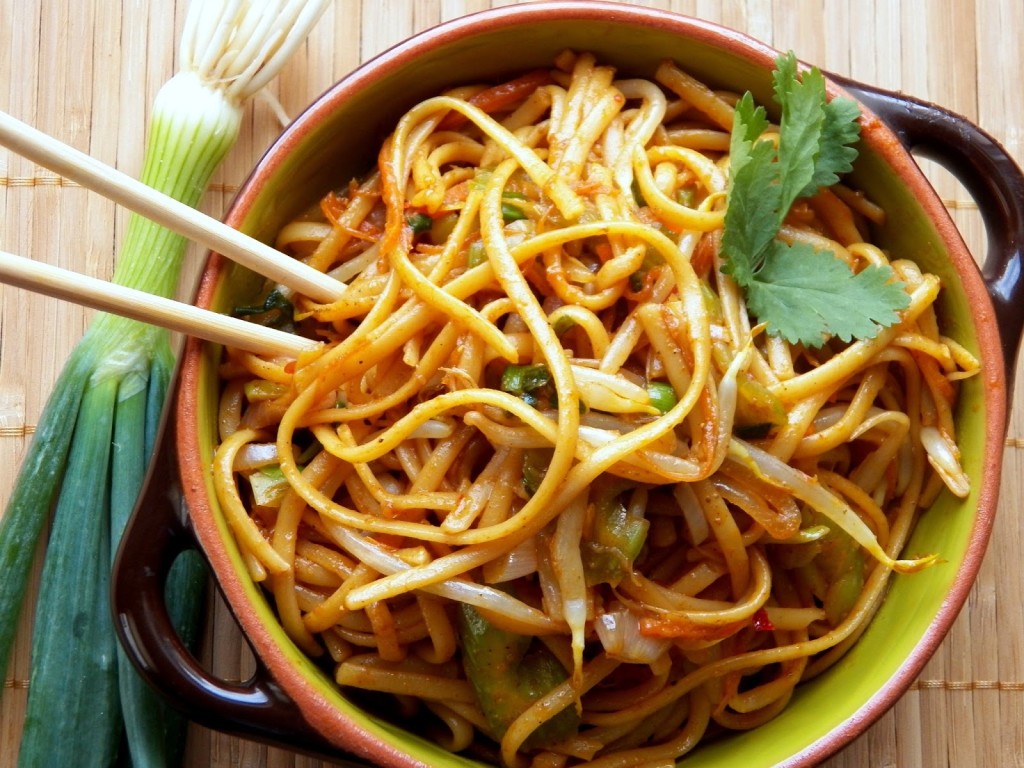 Easy to Make Noodles to Die for!
Obsessed with eating Asian noodles, our intern Julia was sick of spending up to $10 bucks a pop ordering in greasy Chinese food.  So, instead of giving up her love of Lo Mein, she mastered making a healthier Fab & Fru version instead.  Enjoy!
Serves 3-5 
Ingredients:
8 oz of Noodles (lo mein noodles, egg noodles, or Annie Chung's Buckwheat soba noodles)
Light soy sauce or Tamari sauce
White Pepper
3-5 Garlic Cloves (depending on size & taste)
4-5 Scallions
1 Cup Mung Bean sprouts
2 Sliced Carrots (use a potato peeler for extra thin slices)
Ginger: fresh (1/2 inch piece minced) or 1/2 tsp of ground ginger (I actually usually prefer ground)
Vegetarian Oyster Sauce or Regular Oyster Sauce
Leen Kum Kee Vegetarian Stir Fry Sauce – optional
2-3 Tbs Toasted Sesame Oil
Add whatever other veggies you like: broccoli, bok choy, baby corn, bamboo shoots, water chestnuts, mushrooms, red peppers, shredded cabbage, and tofu – all are delicious in this dish.

If you want to go non veggie – just add diced chicken, beef, or pork!
Instructions:
Cook the noodles – al dente.  Let noodles cool before mixing other ingredients together
Mince the garlic and chop 4 scallions
Heat a pan with about 2 tbsp of the oil.  Then add the garlic 3/4 of the scallions, and the fresh minced ginger.  Cook for a few minutes. – Scallions should be tender, but not too soft
Add all other vegetables and cook until crisp
Toss the mixture with the noodles
Drizzle in the soy sauce for about '4 turns around the pan'.  Stir and coat the noodles.  It's enough soy sauce if all of the noodles turn a bit darker in color.  If they don't, add a bit more
Drizzle both the oyster sauce and  stir fry sauce (optional) for about '3 turns around the pan'.  If you do not use the Stir Fry Sauce, add a couple hearty shakes of the Oyster Sauce
Add white pepper to taste
Toss everything together and continue cooking a few more minutes – so the sauces can blend
Add the rest of the scallions
Taste a noodle and if it needs more sauce.   If desired, add a teaspoon of toasted sesame oil at the end for taste.
|
Print