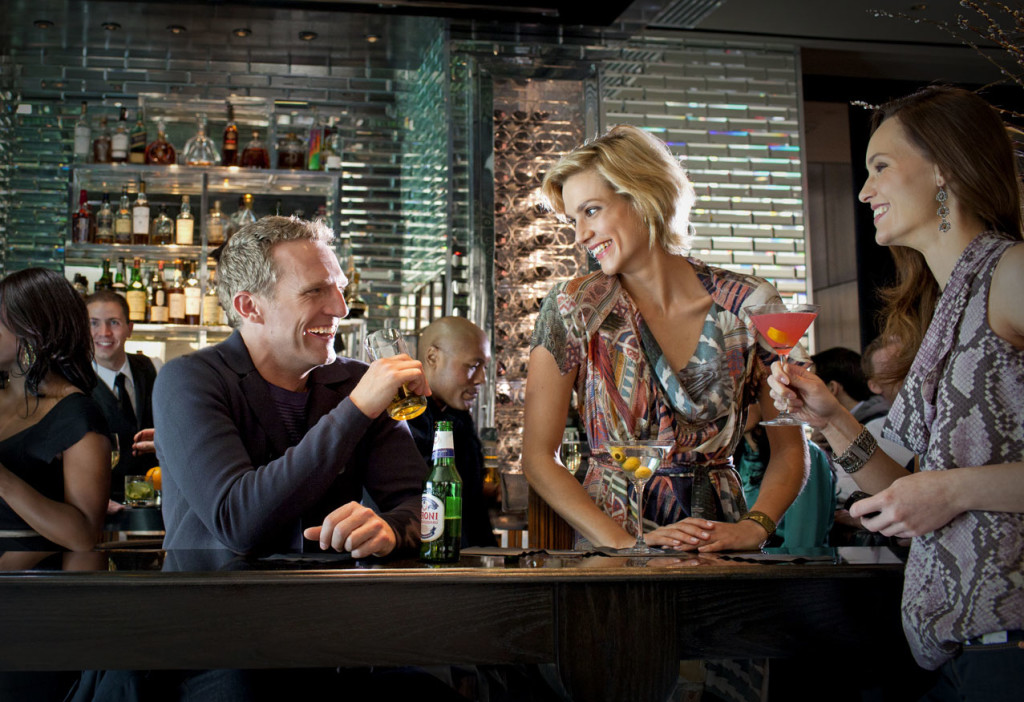 When Anne and Trish went to Boston to visit their friend Kate, Anne decided to contact this guy John she had met at a friend's party in New York the month before.  They hadn't talked since, but he was super cute, seemed interesting, and had a wicked sense of humor – why not, right!  So, Anne shot him an email and invited him to join her and the ladies for an early drink on Friday when they got to town.  Totally game to meet up, John emailed her right back and seemed generally excited to see Anne again and meet her friends.
Happy hour was in full swing when they got to the bar, and John immediately asked the ladies what he could get them.  Full on gentleman style, he took their orders, laid down his card, and served everyone to boot.  When round two came around, Anne didn't order, but Trish, Kate, and John all had another beer, and John immediately took charge again.
Kate had made a dinner reservation at the adjoining restaurant, and because the evening was going so well, the ladies invited John to join them.  John accepted the invitation to sit with them, but he announced he wasn't going to eat, but he'd have another drink or two.  During the course of the meal, it came out that John had just left his well paying job, and was intending to live quite frugally so he could dedicate his time to charitable endeavors. Noble, right? But as John continued to talk, the conversation became more and more awkward, and soon it was clearly time to go.  When the bill came, to get John back for happy hour, the ladies automatically paid for his drinks – but he did not acknowledge the gesture.
Everyone got up to leave, and John announced he still had to close out his bar tab.  The ladies were a bit surprised, and John looked at them for a moment as if he was expecting them to chip in.  Instead, he said an awkward goodbye, and went to the bar to get his card.  The ladies didn't really know what to make of the what just happened – so they left.  At $4 a drink, they calculated that John had laid out $28 bucks (and they had paid for two non-happy hour beers for him).
While Trish and Kate, did not give it a second thought, Anne questioned if they should have offered to give him some money.  Was Anne right to feel protective of John, even though he acted like a freak, or did Trish and Kate have the right philosophy?
Would you have offered John a couple of bucks, or gone home with a clear conscience? Tell us what you think!
|
Print