by Brandi Savitt – updated July 24, 2013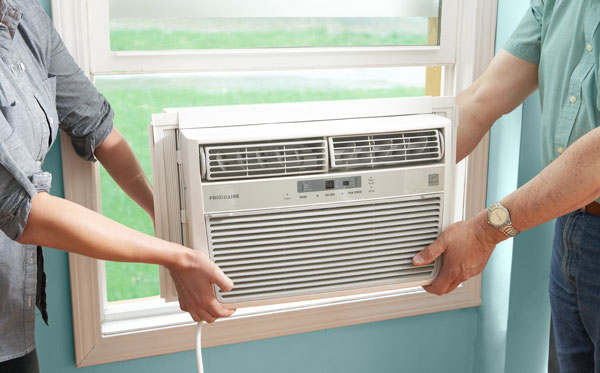 *Our friend David walked into his office yesterday to find that his old, trusty window AC unit had finally conked out – completely.  So it seemed like the perfect time to revisit our advice on how to buy a new air conditioner! 
Cooling Your House One Room at a Time
After spending two lovely days out at the beach last weekend, I walked into my top floor Brooklyn apartment and instantly wilted from the sweltering heat and humidity.  There was no air circulating at all!  So, like any rational person who likes to breathe, I immediately closed all the windows and turned on the window unit air conditioner in my living room.
As my trusted friend roared into action, I had forgotten how deafening this 10 year old monster could be.  But then suddenly her roar turned into a screech and then a pathetic whimper…  And just like that, my summer salvation was dead – and the race was on to find the best deal on a new unit!
Why Buy a Window Unit
If you're like me and you live in a prewar building or house with no central cooling system, getting window units is likely your best option to cool your space.  But did you know that window units are also a fantastic money saving alternative for those who just want to cool selected rooms in their home without having to pay to air condition the entire house at once?!
Selecting the Right Unit for Your Room
Surprisingly, getting a bigger air conditioner with more cooling power is NOT always better!  According to Energystar.gov, "an oversized air conditioner is actually less effective — and wastes energy at the same time.  Air conditioners remove both heat and humidity from the air.  If the unit is too large, it will cool the room quickly, but only remove some of the humidity.  This leaves the room with a damp, clammy feeling.  A properly sized unit will remove humidity effectively as it cools".
How Do You Determine the Right Size?
So, how can you be sure that your not wasting your money on an AC unit that is too small or too big?  Get out the measuring tape!
Calculate the Square Footage
Multiply the width and the length of the room that you are buying for to determine the square footage.  Square footage is the key to determining the amount of power or  BTU's (British Thermal Units per hour) that you need in a unit.  Click here for this handy BTU calculating tool from window-ac.com to help you get started…
Mind Your BTU's
Once you're sure of the square footage of the space you need to cool, you can start to look at your options:
| To cool this area | Look for this size air conditioner |
| --- | --- |
| 100 to 150 square feet | 5,000 BTUs |
| 150 to 250 square feet | 6,000 BTUs |
| 250 to 300 square feet | 7,000 BTUs |
| 300 to 350 square feet | 8,000 BTUs |
| 350 to 400 square feet | 9,000 BTUs |
| 400 to 450 square feet | 10,000 BTUs |
| 450 to 550 square feet | 12,000 BTUs |
| 550 to 700 square feet | 14,000 BTUs |
| 700 to 1,000 square feet | 18,000 BTUs |
| 1,000 to 1 400 square feet | 24,000 BTUs |
Energystar.gov suggests that when looking for the correct size AC unit, consider these factors as well:
If the room is heavily shaded, you can reduce the BTU capacity by 10%
If the room is very sunny, you should increase the BTU capacity by 10%
If more than 2 people regularly occupy the room, add 600 Btu for each additional person
If the unit is for a kitchen, increase the capacity by 4,000 Btu/Hr.
|
Print
Pages: 1 2