by Julia Brady – July 22, 2013

DIY Functional Artwork
Want to add instant dimension to your space – not to mention having a place to apply your lipstick outside of the bathroom?  Think mirrors! If you don't have old ones stashed away, you can pick some up for cheap at your local flea market or craft store.  Check out these Fab & Fru tricks that will turn old, boring mirrors into functional pieces of art!
It's All in the Frame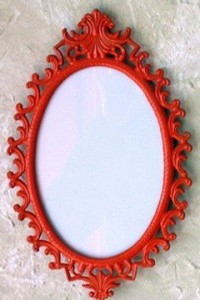 Start by measuring the size of your mirror.  You can then go to a framing shop or crafts store and buy a frame that matches your style.  Whether you gravitate towards an intricate gold frame, or a simple silver frame for a more modern update, it's time to get creative.  Consider buying a plain wood frame kit from the crafts store that you can paint yourself!  --Make sure to follow the instructions to make sure the glass is securely in place, and if need be, secure the hanging hooks to the back of frame.
Create an Installation of Reflection
Design a collage of mirrors by mixing and matching different colored frames with different sizes, and then arrange them on the wall to create your very own functional art installation.  Or if you want a more streamlined, sophisticated look,  paint your collection of frames all one color!
Add a Little Frost
It's incredibly easy to add texture to the mirror itself by giving it a little frost .  Simply buy an inexpensive can of frosted glass spray paint at a local home improvement or crafts store, and spray a thin layer on your mirror (outside of course).  Spray on more layers until it reaches your desire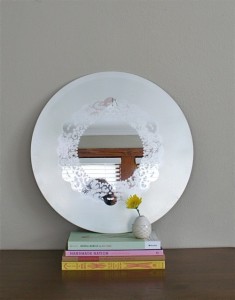 d opacity.
For an added design twist, before spraying on the frost, create a geometric design on the glass using paper tape.  You can also apply floral shaped stickers, lace, paper or fabric doilies, or use more intricate stencils to create a unique pattern.  After applying the tape, stencils, or fabric to a clean mirror, spray paint the frosted paint on top of the entire mirror.  Once the paint is dry, remove the appliqué, and you will have a one of a kind, reflective masterpiece!
To create the look of an etched mirror, you simply cover the entire mirror with tape, and then VERY CAREFULLY use an X-acto knife to cut out a word or design.  Spray paint with frosted glass spray only the exposed mirror area.  Once dry, remove all the tape and your mirror will look like vintage etched glass!
Metalwork & Crafty Detail

Flea markets are full of all sorts of odds and ends.  Find anything that is metal and has at least one flat side.  It can be part of the back of a chair, an old broche, a handle or pull, or anything else that strikes your fancy.  With a glue gun, carefully attach the flat part of the metal to the mirror in as many places as possible (for the best possible hold).  Give it plenty of time to dry before hanging your new signature piece of art on the wall!
What are your best DIY mirror ideas? Let us know! 
|
Print