In 2003, The New York Times spotlighted a small group of highly successful and educated women who left the workforce at their careers' peak, in what it termed the "Opt-Out Revolution."
These women declined to climb the ladder in favor of staying at home with their kids, relying on their spouses' high salaries to pay the bills.
Ten years later, the Times returned to question whether these women had found their work-life happy endings, and found many struggling to re-enter the workforce.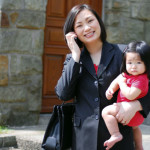 At the time of the original Times article, Sheilah O'Donnel had just quit her job as a senior executive with a $500,000 annual salary. She felt pushed to the perimeters and less challenged by her work after switching to part-time, and her relationship with her husband was suffering.
Quitting didn't solve her marital problems, and not working took a major toll on her sense of self-worth, she told the Times. Following her divorce, O'Donnel needed a means to support herself. She found a job, far lower on the ladder than the one she'd had before, that paid 5 times less, and she had to withdraw money from her old 401(k) and borrow money from her sister to survive before receiving her first paycheck.
Going Back to Work
Economist and founding president of the Center for Talent Innovation in New York, Sylvia Ann Hewlett, conducted a survey of thousands of women with graduate or bachelor's degrees with honors in 2004 and again in 2009. Of those who took a significant amount of time off—about a third—the majority said they would have wanted to return to work sooner, and 89% of the subjects were looking to rejoin the workforce. Only 73% of them did find a job, 40% at full-time, with about 25% taking a lower-level position and a 16% average pay cut from their previous jobs.
Earning Less but Living More?
According to the Times, the most highly educated, wealthy and elite class of women who opted out were readily able to find jobs, though they earned less. Still, these women said they found the jobs more fulfilling and suited to better work-life balance than the high-powered jobs they had before they left to raise a family.
Lisa Belkin, who authored the 2003 Times piece, reconnected with some of the women she had interviewed. For at least one, "The world had changed in her favor; the part-time work they wouldn't give her is now what they were willing to give," she told the Times.
At the same time, most women who returned to the workforce took jobs in more female-dominated, less competitive environments, though many had previously pursued careers in more traditionally male fields, according to a prolonged study by sociologist Pamela Stone.
|
Print
Pages: 1 2