By Stephanie Berenbaum – republished August 13, 2013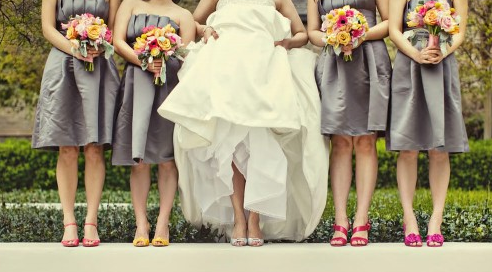 Our recently engaged friend Darcy is in full on wedding planning mode. Last week, she asked her sister, her cousin and two close friends to be bridesmaids, and began looking for the perfect bridesmaid dress for her ladies. The problem: Darcy has really expensive taste..
Not really thinking about everyone's financial situation, Darcy chose a beautiful jewel green designer dress that is close to $400 a pop.  When her cousin Janie saw the price tag, she confronted Darcy and told her unfortunately the dress was WAY out of her budget…
Darcy immediately offered to pay for Janie's dress. But then it occurred to her – if she was paying for one bridesmaid's dress, shouldn't she really offer to pay for all of them?  Some of our friends thought she shouldn't offer to pay for them unless other 'maids complained about the price – while others felt if she was offering to buy one she should really offer to buy all of them…
So — what do YOU think Darcy should do?!
|
Print